Kingwood Center Gardens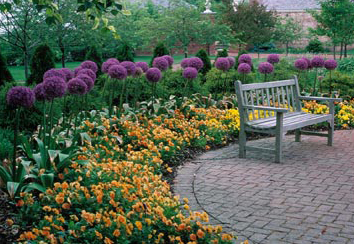 Phone:
419-522-0211
Email:
info@kingwoodcenter.org
Website:
www.kingwoodcenter.org
Address:
50 N. Trimble Road
Mansfield, 44906
Location:
1 1/2 miles west of downtown Mansfield or Trimble Rd. Exit off US30.Enter at 50 N. Trimble Rd.

Kingwood is the 47-acre former estate of Charles K. King. The grounds are renowned for both their historic significance and the brilliant floral displays. The French Provincial mansion provides an elegant setting for the gardens and is available for viewing by appointment and on specified days and hours including the Christmas season (see www.kingwoodcenter.org for details). An elegant greenhouse features plants for sale including rare and distinctive selections not found in garden centers. The extensive gardens and grounds offer an oasis from the stress and commotion. Programming includes lectures, workshops, family and children's activities and special events. See our website for details.
Workshops also available for children.
April 1-Oct. 31 admission/parking is $5 per vehicle.
Credit Cards:
Mastercard/Visa/Discover/AMEX
Closed
January, Feb, and March

April 1-Oct. 31
Grounds 9 am-7 pm daily
Greenhouse 9 am-6 pm daily
Kingwood Hall is open (May-Sept.) for Self-Guided tours Monday through Friday from 10am-2pm / Guided tours are offered every Saturday at 11 and Sunday at 2 ( please call to confirm availability)
Scheduled guided group tours will still see the mansion as part of their tour.

November
Kingwood Center is closed to the public to prepare for "Christmas at Kingwood". Please check back for 2016 "Christmas at Kingwood" hours.

December
Kingwood Center is open for "Christmas at Kingwood". Please check back for 2016 "Christmas at Kingwood" hours.

2016 Group Tour Price: Guided Tours $5.00 per person, non-guided tours $2.00 per person (These prices include admission).

Kingwood is closed on Thanksgiving and Christmas Day.


Handicapped accessible.
Click here to read the Kingwood Center Gardens. member spotlight