The Calendar of Events is not supported by Internet Exploreryour current browser. For best viewing, please use Chrome, Firefox, or Edge.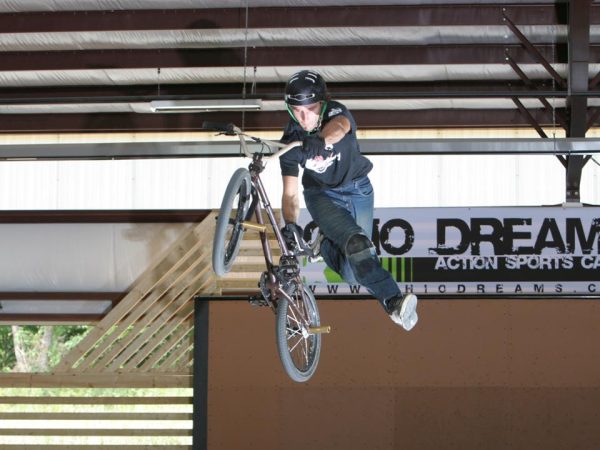 Ohio Dreams is the Adventure Summer Camp you have always dreamed about.
Located in the heart of the Midwest in central Ohio and set on approximately 300 acres of woodlands, waterfalls, meadows and fun!
At Ohio dreams Adventure Camp, campers ages 7-17 stay anywhere from one to six weeks while learning and participating in Orienteering, Ninja Warrior, Archery, Canoeing, STEM Projects, Hiking, Mountain Biking, Climbing, Skateboarding, Scootering, BMX, Slacklines, Disc Golf and the world famous Slip-n-Fly!
We provide the equipment if you don't have your own, but if you do, we always recommend bringing it because campers always have more fun with equipment they are familiar with.
Register today because attendance fills up every year!
Directions:
Ohio Dreams is conveniently located 15 minutes off I-71
Take exit 169 and proceed to the Wendy's restaurant then follow signs to Snow Trails.  Continue on Possum Run Rd until the first stop sign (approximately 8 miles).  Proceed straight through the stop sign onto Bunker Hill Rd.  At the second paved road (Tugend Rd) turn right.  Ohio Dreams is the second driveway on the right.  It is also possible to follow the signs to Otyokwa Camp, we are located across Tugend Rd from their camp.
Internet based driving directions tend to make the drive to Ohio Dreams much more difficult than need be, if you are unsure on how to get to Ohio Dreams, Please feel free to give us a call and we would be more than happy to help!!
Thanks for making all our dreams come true here at OHIO DREAMS!!!
There were no results found.