The Calendar of Events is not supported by Internet Exploreryour current browser. For best viewing, please use Chrome, Firefox, or Edge.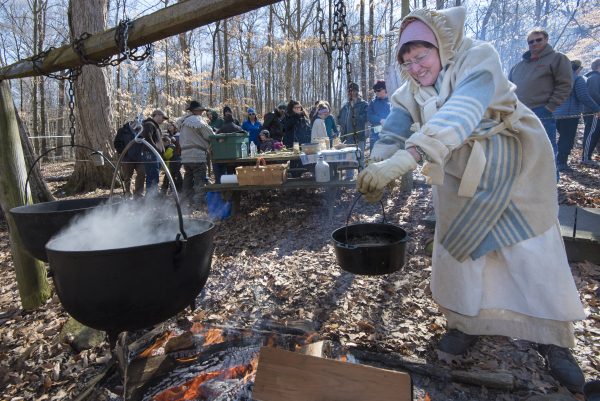 2020 Dates: March 7-8 & 14-15 (March 14/15 CANCELED)
10am-4pm both days
This family festival (held continuously since 1977) always occurs on the first two weekends in March, from 12 noon to 4 PM each weekend day.  This free festival is a great opportunity for families and friends to step back in time, learn, and enjoy the history of Ohio syrup making at Malabar Farm State Park.
The festival includes demonstrations of sugaring techniques from the early days, when Ohio was home to Native Americans, through present day. A self-guided tour of the sugar camp and sugarhouse will reveal the evolution of sugaring equipment and how maple sap is transformed into maple syrup. A peek inside the summer bell house, behind the Pugh Log Cabin, will take you back to Ohio's past. Kids and adults will also enjoy the horse-drawn wagon rides to the sugar camp provided by the Central Ohio Draft Horse Association.
Free samples of maple syrup will be available at the sugar house.  Pure Ohio maple syrup, homemade Maple Walnut Fudge, Maple Cotton Candy, Maple Popcorn, and other maple products will be on sale during the event, and in the Malabar Farm Gift Shop throughout the season.  Live musical entertainment will be provided along with light refreshments and snacks during the festival in the Pugh Log Cabin located near the event.
Bromfield's historical 32-room mansion will be open for hosted, self-paced tours from 12 noon to 4 PM . Tickets can be purchased in the Gift Shop.
Event is FREE, but cash is recommended for shopping
There were no results found.