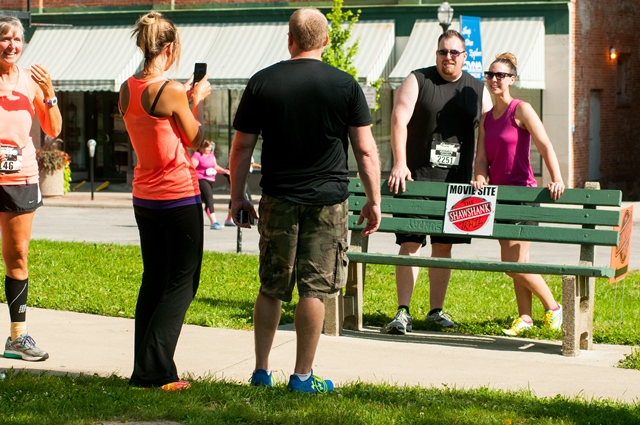 Central Park in Downtown Mansfield (Brooks' Bench)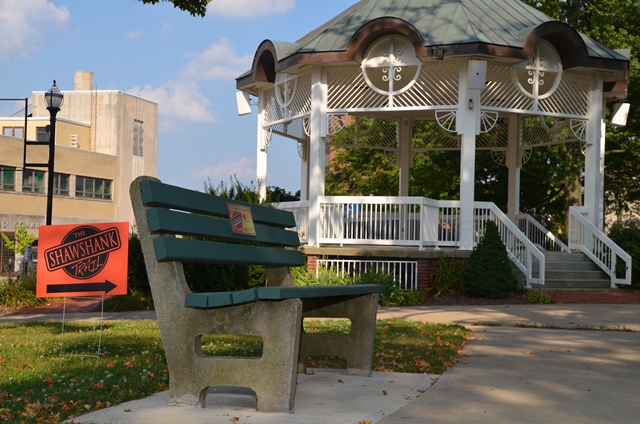 Central Park North in downtown Mansfield is one of the 14 Hollywood filming sites where The Shawshank Redemption was filmed. In Shawshank Redemption, Brooks (actor James Whitmore) is seen feeding the pigeons in the park, waiting for his pet crow Jake to show up but never does.  You can also see the bench in Centr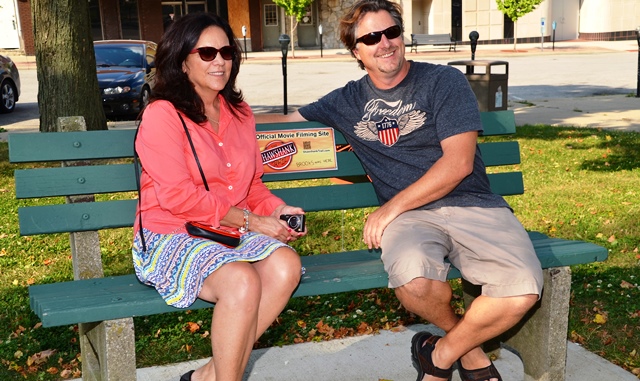 al Park North when you visit Ed Pickens' Cafe on Main (open Monday-Friday, 10 a.m.-3 p.m.) and look through a special area in the restaurant to view the bench.  The bench is west of the Gazebo, facing south and is painted green (similar to in the movie) with a Shawshank plaque attached to it.
The park offers visitors two acres in downtown Mansfield, a gazebo, gardens, picnic area, playground equipment, the Historic Vasbinder Fountain, the Dr. Martin Luther King, Jr. Memorial and monuments.  Nearby attractions, shops and eateries surround the Central Park District.
The Shawshank Trail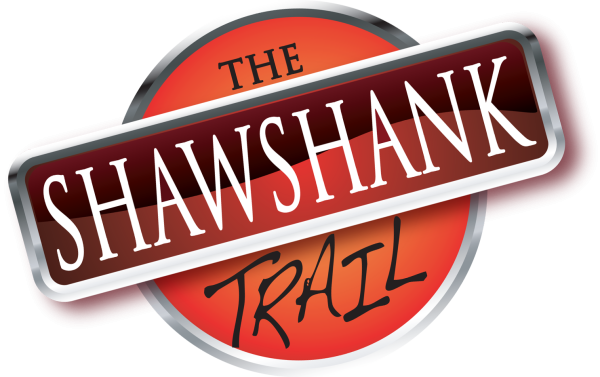 Brooks sits down on the bench in Central Park to feed the birds, hoping his pet crow Jake will show up to say hello, but he never does.  Where the gazebo stands now is where the original bench was located.  The bench is along the walkway just east of the Gazebo.  The bench is painted green to resemble the bench in the movie and has a Shawshank plaque on the front and back of it to help identify.
Visit ShawshankTrail.com for information on all filming sites.
Local Summer Music
Brown Bag Concert Series in Central Park
The Brown Bag Concert Series will kick off on Friday, June 9th at noon in the Gazebo in Central Park. We will showcase live music the second Friday of each month through September 8th, from noon until 1:30pm. Bring your lunch, meet your friends and relax in the sun!
Time: starts 12:00pm and ends 1:30pm
2017 Brown Bag Concert Dates: June 9, July 14, August 11, September 8
There were no results found.