Areas Along Mansfield Biking Trails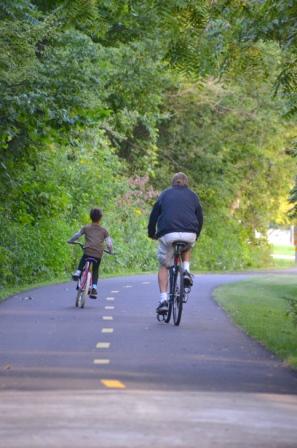 Mansfield is home to some incredible attractions such as Kingwood Center, Oak Hill Cottage, Mansfield Art Center, Renaissance Theatre, and the Historic Ohio State Reformatory made famous in "The Shawshank Redemption".
The trail starts/ends in North Lake Park, which connects to Middle and South Parks.  Conveniently located by a short drive is Mansfield's Historic Carrousel District featuring one of a kind shops and unique eateries as well as coffee shops with sidewalk seating.  While you are downtown enjoy a leisurely stroll down Main Street and visit several of the filming sites on "The Shawshank Trail".  Be sure to stop for a ride on the hand-carved wooden carrousel at the Richland Carrousel Park, the crown jewel of the district.
Mansfield is also North Central Ohio's hub for major retailers, restaurants and hotels.  Whether you want to relax & recharge, do some sight-seeing or just pick up some necessities, you will find what you are looking for in Mansfield.