Ryan Shreve, Renaissance Theatre
Spamalot the Musical at Renaissance Theatre
March 5 @ 8:00 pm
|
Recurring Event
(See all)
One event on March 6, 2022 at 2:30 pm
One event on March 12, 2022 at 8:00 pm
One event on March 13, 2022 at 2:30 pm
Tiered Pricing
Spamalot the Musical Comes to Renaissance Theatre!
You don't want to miss this international stage hit, lovingly ripped off from the classic film Monty Python and the Holy Grail: Spamalot the Musical!
"You can't prevent yourself from laughing even if you want to" (Journal News).
About Spamalot the Musical:
An unforgettable story filled with flying cows, killer rabbits, taunting Frenchmen and show-stopping musical numbers, Spamalot the Musical contains a plethora of humorous oddities that has continuously exhilarated audiences for years. Spamalot, which has won three Tony Awards including Best Musical, is outrageous, uproarious and endlessly entertaining. Not only that, Spamalot is a type of comedy that will leave you "looking on the bright side of life".
Featured Cast:
Beau Roberts as King Arthur
Colton Penwell as Sir Lancelot
Chris Bullwinnkle as Sir Robin
Maddie Penwell as The Lady of the Lady
Ryan Shreve as Sir Galahad
Zakari Ramos as Patsy
Leah Gesouras as Sir Bedevere
Ethan Chapman as Historian/Herbert
Sam Woodill as Not Dead Fred
Caroline Grace Williams as Lead Minstrel
Jamie Mayfield as Sir Bors
Rebecah Boesch as Laker Girl
George Swarn as Knight
Niko Carter as Knight
Robert Hardin-Leeth as Knight
Directed by Ryan Shealy
Music Direction by Kelly Knowlton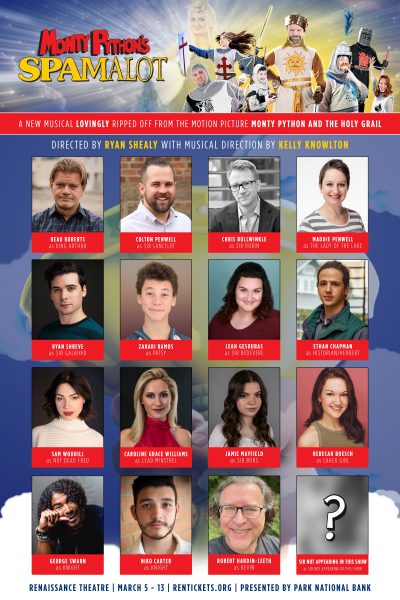 How do I get tickets?
Get ready for this smash-hit musical is coming to the Ren in Mansfield, Ohio. Get tickets as low as $15! For tickets, visit https://bit.ly/SpamalotDM
The Ren is proud to be supported by Destination Mansfield, visit their attractions page at https://www.destinationmansfield.com/venue/renaissance-theatre/
Above all, the Ren would like to thank their Broadway Series Presenter, Park National Bank, for making this event possible.
The Renaissance Theatre is a performing arts theater located at 138 Park Avenue West, Mansfield, Ohio. Looking for Things to Do in Mansfield? Visit rentickets.org to check out their other great events or contact renaissance@mansfieldtickets.com for events, tours, arts, culture and more. For behind-the-scenes videos and more visit the Ren's YouTube Channel.
Monty Python's Spamalot retells the tale of King Arthur and his Knights of the Round Table and their pursuit for the Holy Grail, a quest given from God. Their adventures take them across uncharted lands and straight into the hands of odd characters.
Brought to you by our proud Broadway Series Presenters: Park National Bank of Mansfield.
Special Thanks
Special thanks to our season presenters and season sponsors who make arts and culture possible in Downtown Mansfield:
OhioHealth, Park National Bank, Mansfield Ohio, Avita Health System, Mechanics Bank, Techman Sales Inc., Lind Media Company, DRM Productions, Schmidt Security Pro, WMFD TV, Mix106.1FM WVNO, WKSU, WOSU Public Media, WCPN, Crawford County Now, iHeartRadio, 107.7 The Breeze – Mansfield, Mansfield News Journal, Google, Richland County Foundation, Richland Source, Cleveland Financial Group, Hudson and Essex, Cypress Hill Winery, Downtown Mansfield, Inc., Richland Area Chamber & Economic Development, Destination Mansfield – Richland County, Ohio Magazine, and Ohio Arts Council.
Renaissance Theatre is a performing arts theater located at 138 Park Ave. W., Mansfield, Ohio. Looking for Things to Do? Visit rentickets.org 
Related Events