Cool temperatures and the crunch of leaves underfoot. Pumpkins and apples baked into pies. Hayrides, corn mazes, and warm cider. When we just talk about fall, you can smell it, can't you? We love our fall traditions here in Richland County because they remind us to slow down during the busyness of the back-to-school season. We all have memories of fall, and each year the season invites us to make new ones with family activities, delicious treats, and Halloween thrills.
The first thing on our list is Apple Picking. When the temperatures dip, we put on our cozy sweaters and head out to Apple Hill Orchards to pick apples off the branch. Enjoy the crisp bite of apples in all their natural glory, or turn your hand-picked bounty into handmade applesauce, apple cider, baked apples, or apple pie. When it comes to fall treats, we can't get enough Apple Donuts. It's a good thing Apple Hill Orchards has them year-round. The store even has a drive-through to get your apple donut fix and a coffee on the go!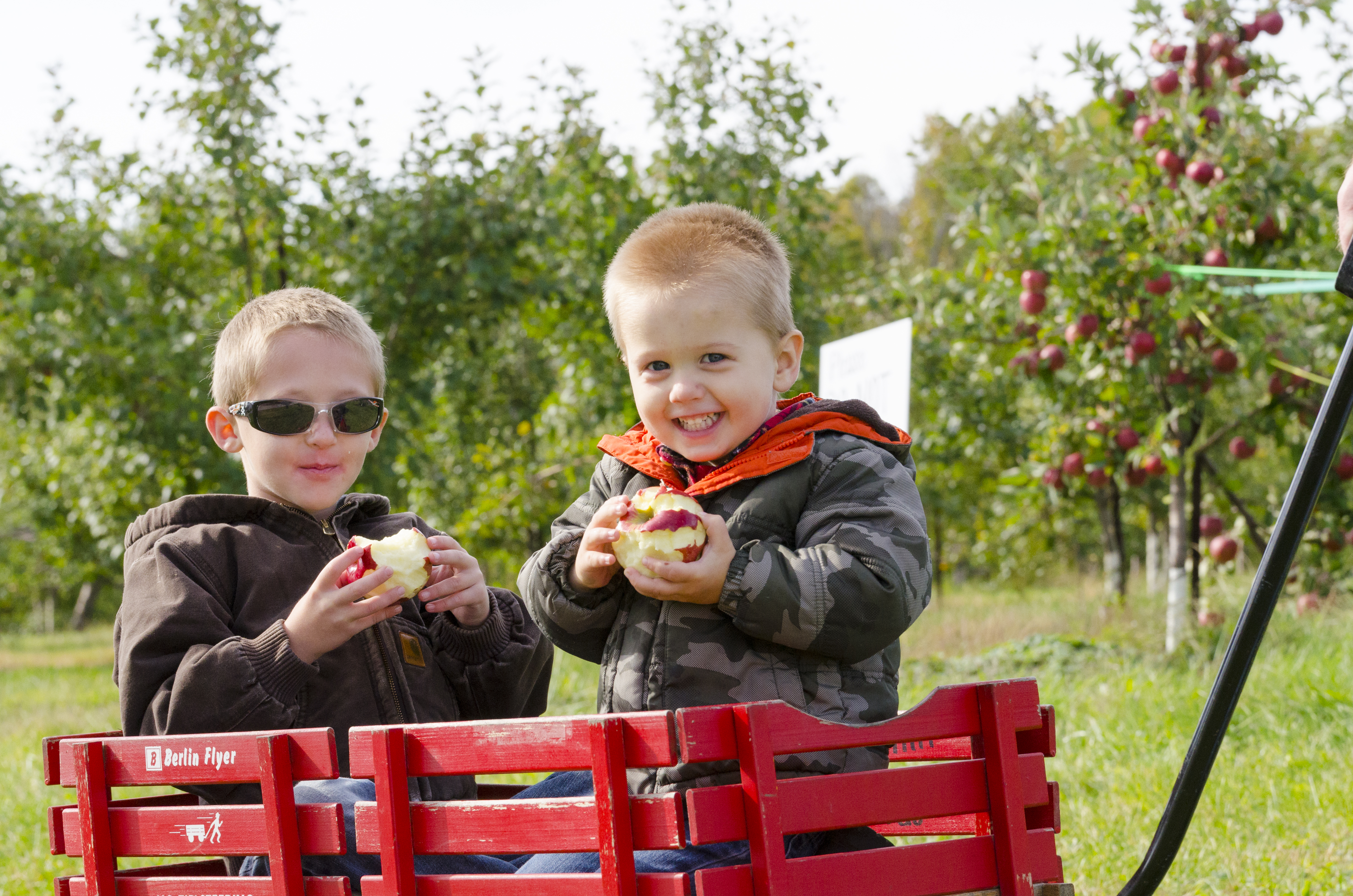 While we're on the topic of pick-your-own, we can't forget our other fall favorite: Pumpkin Picking. Pick your own pumpkins straight from the vine at J & J Rietschlin Farm where you can also enjoy fall traditions like a corn maze and hayrides. This year's corn maze honors our military and first-responder heroes, so all military personnel, fire fighters, EMTs, and police officers, will enjoy the maze and farm entertainment for free with ID.
We know fall is here when we can get Pumpkin Spiced… Anything! Get a locally-made pumpkin spice latte from the area's newest source for coffee and tea, Frenchie Roast — a vintage mobile coffee trailer. Check their Facebook page for the location of the day! Need even more pumpkin? Try some "Pumpkin Obsession" popcorn from Swavory.
It's not fall without Oktoberfest, and Oktoberfest is still on the schedule at The Phoenix Brewing Company. The event is a little different this year, but Truckin Trav's food truck will still be offering up a German menu and The Phoenix will have delicious Harvest and German Style beers available to enjoy in socially distanced and sanitized seating. Local pretzels from Blackbird Bakery and beer cheese from Doc's Deli will also be available. If you prefer to celebrate from afar, reserve an OKTO-To-Go Pack, including Phoenix Oktoberfest and Orange Eyes Pumpkin Ale, pretzel necklace kits, and table decor to decorate where-ever you celebrate.
Many locals consider a trip (or two) to the Prairie Peddler Marketplace a fall tradition. This year's outdoor marketplace with over 200 artisans and food is happening, so you can still support all your favorite vendors! The festival coordinators have partnered with the Richland Public Health department to implement all state guidelines and make sure everyone has a safe and healthy visit!
Halloween is an essential part of our fall traditions, and from spooky to downright terrifying, we love Halloween Movies. The iconic Disney Halloween movie, Hocus Pocus is showing at the Renaissance Theatre Saturday, October 24, at 8:00 PM. The film will be shown simultaneously on the main stage and in the Ren Backlot for people who would prefer to watch from the comfort of their vehicle.
We love to bring the fall indoors and burn fall-scented candles. Crossroads Original Designs factory store in Bucyrus, Ohio has a great selection of fall candles from Caramel Apple to Maple Pumpkin Donut to Mulled Cider. Their candles are made of uniquely blended, clean-burning paraffin wax which allows for maximum fragrance.
Taking a hike to see the fall foliage is a must among our fall traditions. Mt. Jeez at Malabar Farm State Park offers a commanding view of the fall color on the rolling hills of Pleasant Valley. For more hikes, check out our blog post of must-hike trails in Richland County.
If getting scared senseless is your favorite part of fall, we have two terrifying Haunted Houses in our area this year. Test your nerve against the undead inmates at Escape from Blood Prison at the Ohio State Reformatory, the only haunted attraction located in a real prison. Tickets are available online and at the door. Get a lesson in fear from the Mohican Haunted Schoolhouse. Tickets for Mohican Haunted Schoolhouse will be limited, so make sure to purchase a timed ticket online to make sure you get in. If the haunt is at capacity, you may not be able to purchase a ticket at the door.
In fall, we love to decorate our front porches with colorful mums. Mums are available for purchase at Alta Florist and Greenhouse along with seasonal plants for fall planting. At Wayne's Country Market, you'll find everything you need to decorate your porch for fall with a selection of mums, hardy Asters, flowering kale, pumpkins, and decorative gourds.
We love traditional fall treats that go beyond the pie tin! Buckeye Bakery creates special cutout cookies for fall — order a tray of these crowd-pleaser for parties. Wishmaker House Winery & Wine Bar has released their fall cheesecake menu, which includes flavors like Pumpkin Caramel Pecan, Bourbon Caramel Chocolate, and Caramel Apple.
What are your favorite fall traditions? Will you be starting new traditions this year? Did we miss one? Share your fall tradition with us at info@destinationmansfield.com.