Have you been to downtown Mansfield lately? I don't just mean have you driven through it. Have you parked your car and walked North Main Street? Have you heard live music in the gazebo or the bubble of Vasbinder fountain in Central Park?   Have the sounds of the carrousel's pipe organ carried throughout the Carrousel District brought you back to a simpler time? Has the smell of freshly popped and flavored popcorn drawn you into the direction of the Brickyard? Have you sampled the distinctive menu at an upscale dining spot in a historic car showroom? Have you sipped an award-winning brew in a renovated mortuary?
Things are changing downtown and not just physically – there's something in the air. Dare I say a buzz? The Mansfield Rising Plan has renewed interest in this urban area and given many residents and local business owners an excitement for Mansfield's future.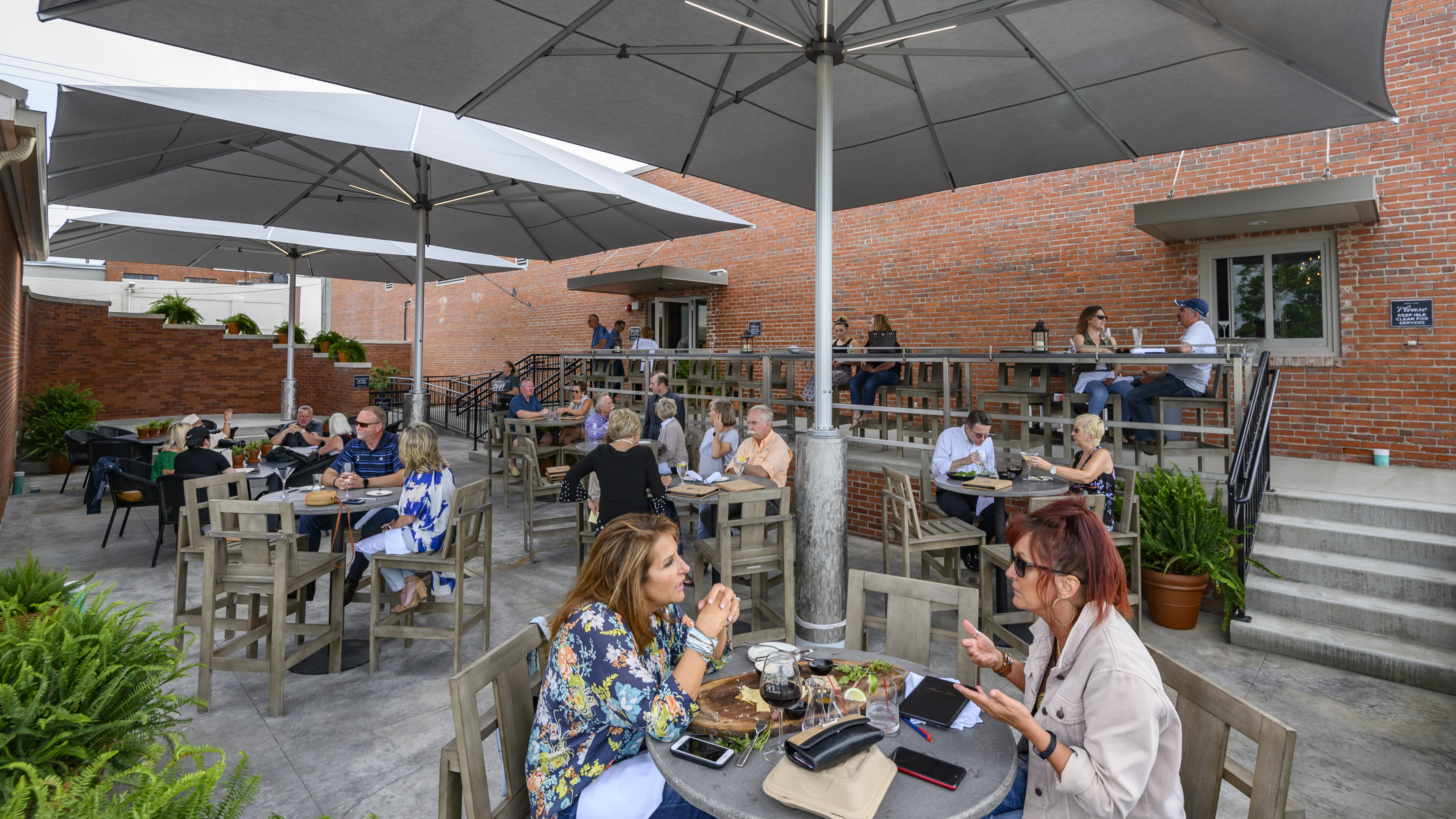 You can certainly feel that excitement during the First Friday Shop Hops. On the first Friday of the month, over fifty independent merchants of downtown Mansfield leave their doors open late. To welcome these evening visitors into town, shops offer specials, discounts, and sometimes even live entertainment. On nice evenings, you can find musicians set up for a sidewalk serenade and the patio seating at Hudson & Essex and Dan Lew Exchange filled to capacity.
"We've been trying to embrace the Shop Hops by having live music out on the sidewalk to entice people and get people interested in coming down our way. Then we have specials in the ice cream parlor," Tara Beaire, owner of Tara's Floral Expressions and The Chill Ice Cream Parlor says. "The best part [of being downtown], I think, is the businesses working together to build something that's good for our community and gets people involved in things. That's why I moved [my business] here because I saw what everyone was trying so hard to build, and it's working."
During the Final Friday Concert Series, The Brickyard is the starring attraction in downtown Mansfield. A parking lot by day, the area shuts down to everyone except pedestrians and food trucks and The Brickyard transforms into a free, "can't-miss" outdoor concert venue. There are no tickets and no assigned seats, so locals will tell you to bring your favorite camp chair and get there early! The bands start at 5:30 pm.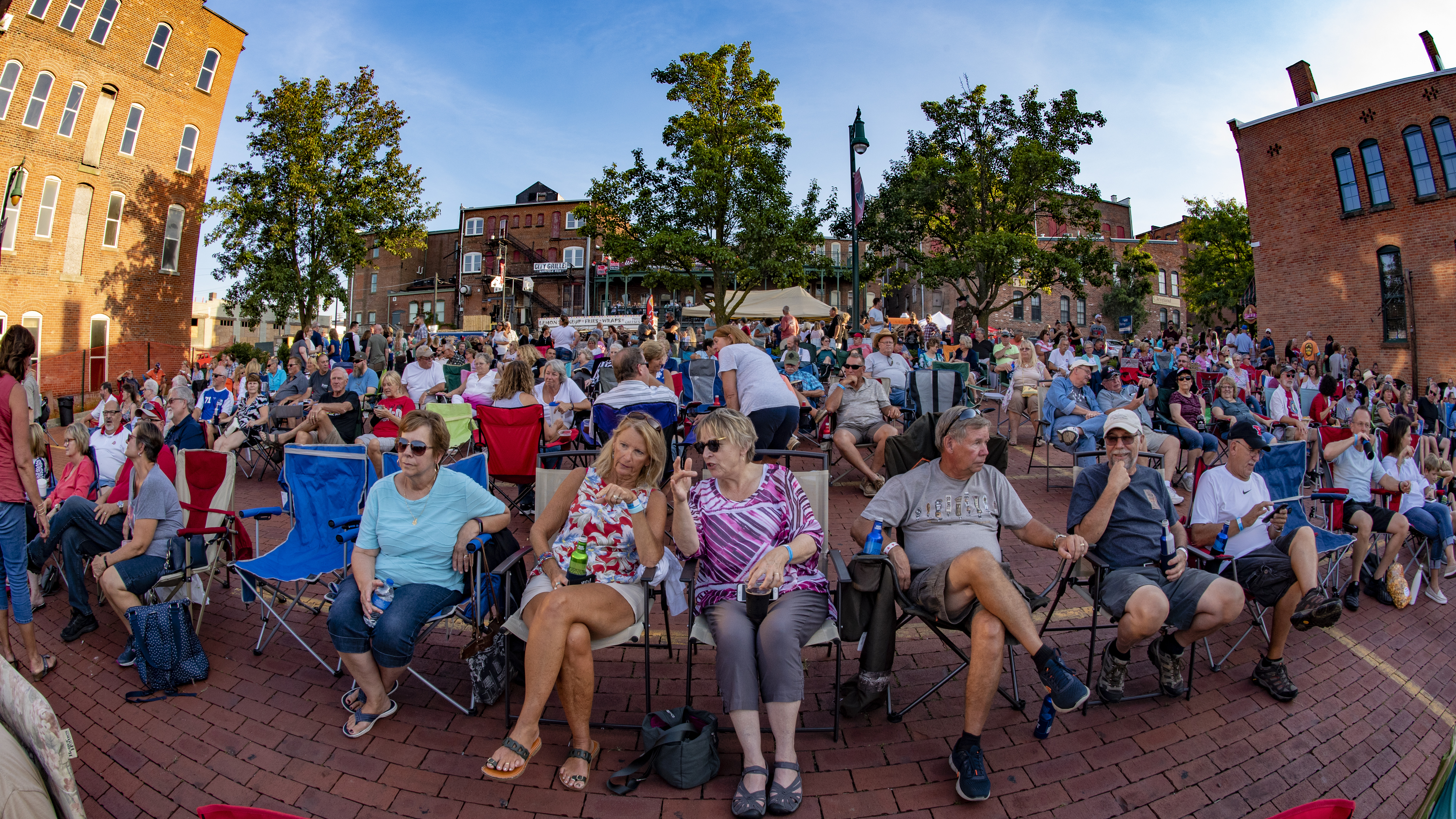 Revitalization is happening all over town, including some exciting things in the Imagination District. Maybe you've been to the Renaissance Theatre for a show, but have you seen an original production in their new black box theatre? The redevelopment of the area along Park Avenue West began with a strategic partnership between the Renaissance Performing Arts Association and Little Buckeye Children's Museum. In 2018, the Renaissance Theatre expanded its footprint with the addition of Theatre 166 next door. In addition to this space, the 15,00 square foot complex will house both a performance space and Renaissance Education Center consisting of classrooms, scenery workshops, a recording studio, artist guest rooms, education offices, and storage. The Pioneer Career & Technology Center will occupy two second-floor classrooms.
While Little Buckeye Children's Museum is still in its original home on West 4th Street, they have opened several new exhibits this year even as construction has begun on their new space a few blocks away. These new additions include the Ohio Eye Associates Eye Doctor exhibit, the OhioHealth | Nationwide Children's Hospital Emergency Room & Pediatric Care exhibit, a new Law Enforcement exhibit, and the new Malabar Farm exhibit. When completed, the new museum will be 30,000 square feet.
Local Eats & Drinks
When it comes to finding a place to eat, we aren't even sure how to choose. Mansfield's newest addition, the sleek and elegant Hudson & Essex Fine Dining and Winery has a distinctive menu featuring local purveyors and their own old world deli. Dan Lew Exchange is also new to downtown. Stop by this flex-casual café for a seasonal lunch or dinner and drinks. China Club favorites have been added to the menu, and the "grab and go" section features sandwiches, salads, sushi and snacks that you could grab for a picnic on the square.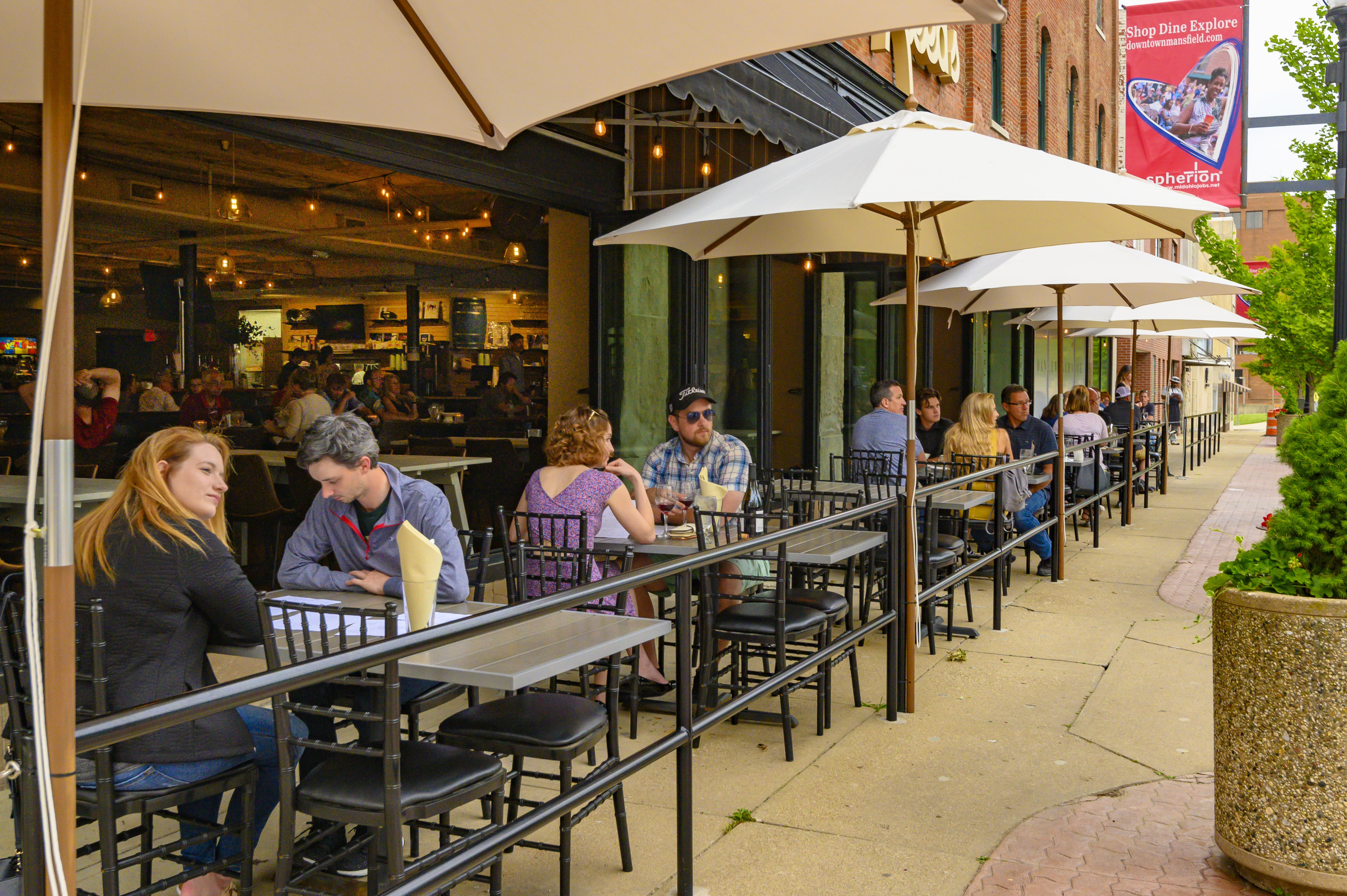 If it's comfort food you need, look no further than downtown Mansfield. Athens Greek Restaurant serves up the best Greek food around, so if you're in the mood for an authentic gyro, falafel, and baklava. Other casual eateries include Two Cousin's Pizza Company and City Grille & Bar.
You can't go wrong with classics on the square like Uncle John's Place or the Coney Island Inn, which has been in business since 1978. Rocky's Pub, has been serving up fine dining from its spot on the square for a whopping 48 years.
Meeting friends for a drink? Cypress Hill Winery, located beneath Hudson & Essex, is a great place to meet with friends. This boutique winery uses California grapes in their distinctive wines. Martinis on Main has amazing cocktails like you would expect to find in a major city. Located adjected to the Brickyard, the patio at Martinis has some of the best seating during Final Fridays. Also located a stone's throw from The Brickyard stage, the patio at The Phoenix Brewing Company is a hot spot all summer long. The Phoenix consistently brings out new, award-winning brews, and while they don't have food on the menu, Two Cousins will deliver to your table or you can grab something from one of the rotations of food trucks. Other bars in the area include The Warehouse Tavern and The Clubhouse.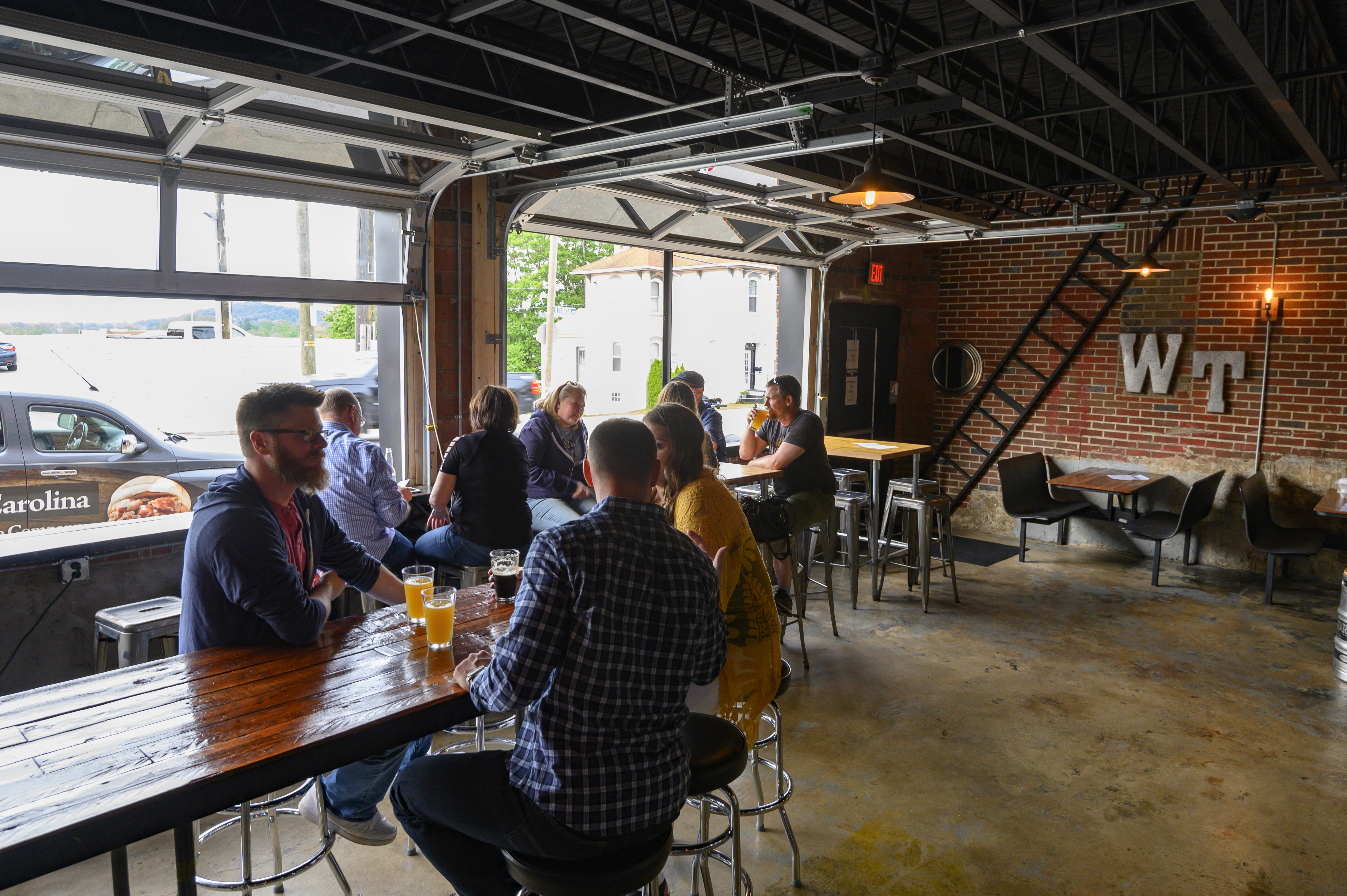 Treat Yourself
The Chill Ice Cream Parlor is an old-fashioned style ice cream parlor that will satisfy any ice cream lover with hard-dip, soft-serve, sundaes, shakes, floats, and malts. Stop by Squirrels Den or Swavory for specialty popcorn. If you need a caffeinated pick-me-up, visit Relax It's Just Coffee for locally roasted coffee and espresso. Relax is co-located Blackbird Bakery which offers a variety of house-made bread and pastries including a few nostalgic items like the strawberry Pop-tart scone. Buckeye Bakery serves the local favorite: maple sticks.
Shopping
Now in its 17th year, Carrousel Antiques Ltd. Is an upscale antique store whose shop window was featured in The Shawshank Redemption. Across the street, you'll find What Goes 'Round Thrift Shoppe where all proceeds from sales benefit Hospice of North Central Ohio. Make sure to stop in Element of Art Studio & Gallery, a non-profit art gallery that showcases the art of individuals with developmental disabilities. Because the space doubles as a studio, the public has the opportunity to interact with the artists as they create.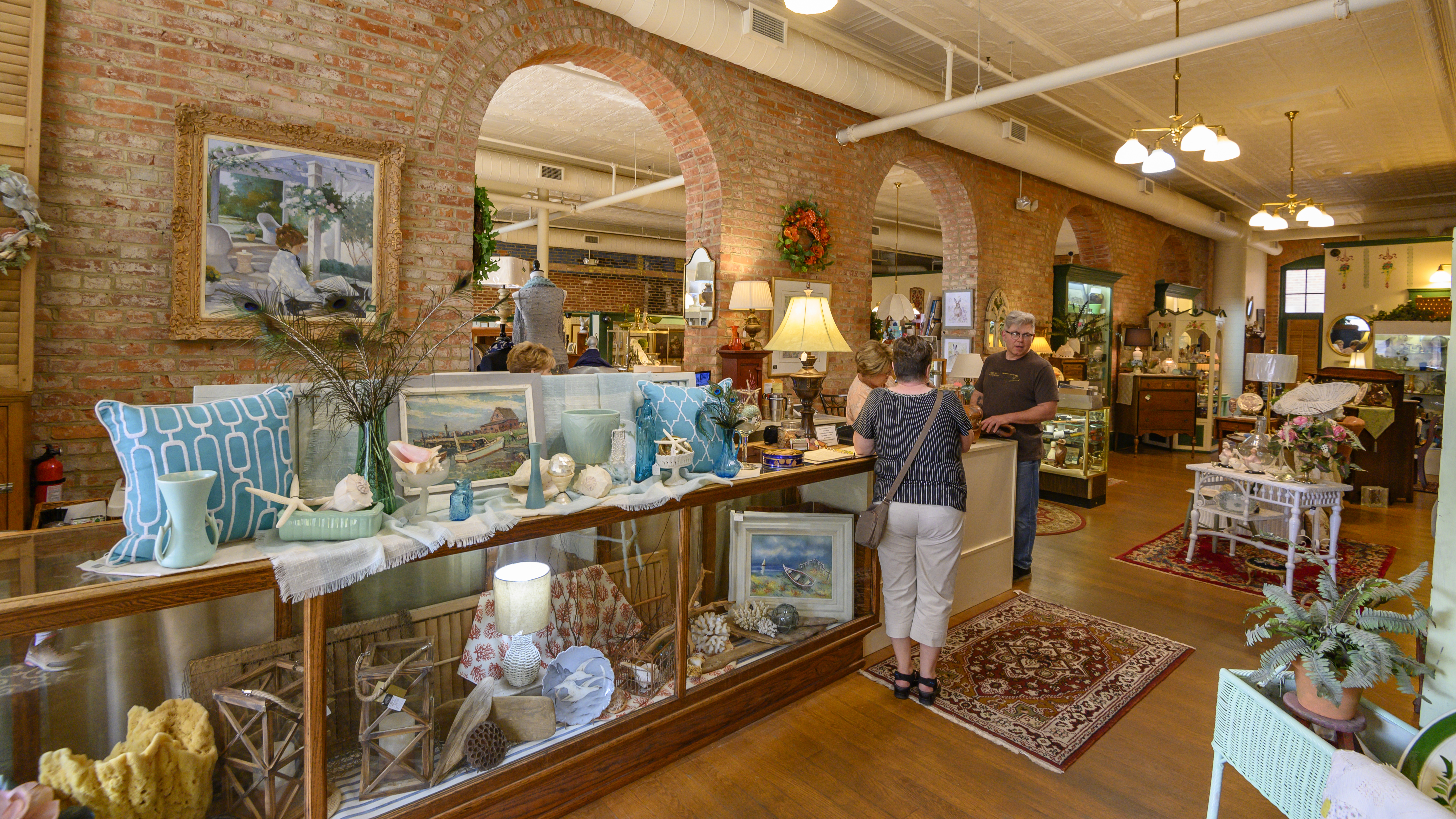 Mansfield is home to several specialty shops that include Tara's Floral Expressions, a full-service florist; Old Soul Vintage Attire and Records; The Boot Life; The 'Field Market, a specialty grocery store; and many more. Bookworms won't want to miss Main Street Books, Mansfield's only independent book store. Let It Shine Gifts, is the place to find new, reclaimed, repurposed and locally made gifts, home décor, and furniture.
Upcoming Events