Meet the Owners, Wine and Ale Trail Series
Looking for a way to relax? Spend time with friends? A little weekend entertainment? Look no further than The Happy Grape Wine Bar & Bistro. Choose from over 100 wines from around the world in a relaxed, fun atmosphere.  Enjoy handmade artisan flatbreads, sandwiches, shareable platters and desserts or visit the traditional ale house, serving Laxton Hollow Brewing Works cask ales. The Happy Grape serves up great wines and great times for all their guests.
Meet the owners! Paul and Pam Smith opened the Happy Grape in 2011, after renovating the Lexington storefront with Pam designing the look of the wine bar. Paul began looking for a new career path after being laid off from a city job. He and Pam visited many businesses to get ideas and found that they enjoyed the atmosphere of a wine bar, so much that they would open one themselves.  Paul says they wanted to have their own place and be their own boss. "We wanted to create a classy place you could go on a date night and just have fun." Both Paul and Pam work other jobs but take the time to come in and work at the Happy Grape as well. Paul tends bar on Friday nights. The motto became "Eat, Drink, Be Happy", and the Happy Grape delivers on that concept with their tasty offerings and entertainment, including live music. An outdoor patio brings an element of fun to summer nights with more room for musical acts and walls decorated by local artists. "We made it into a place we would want to go."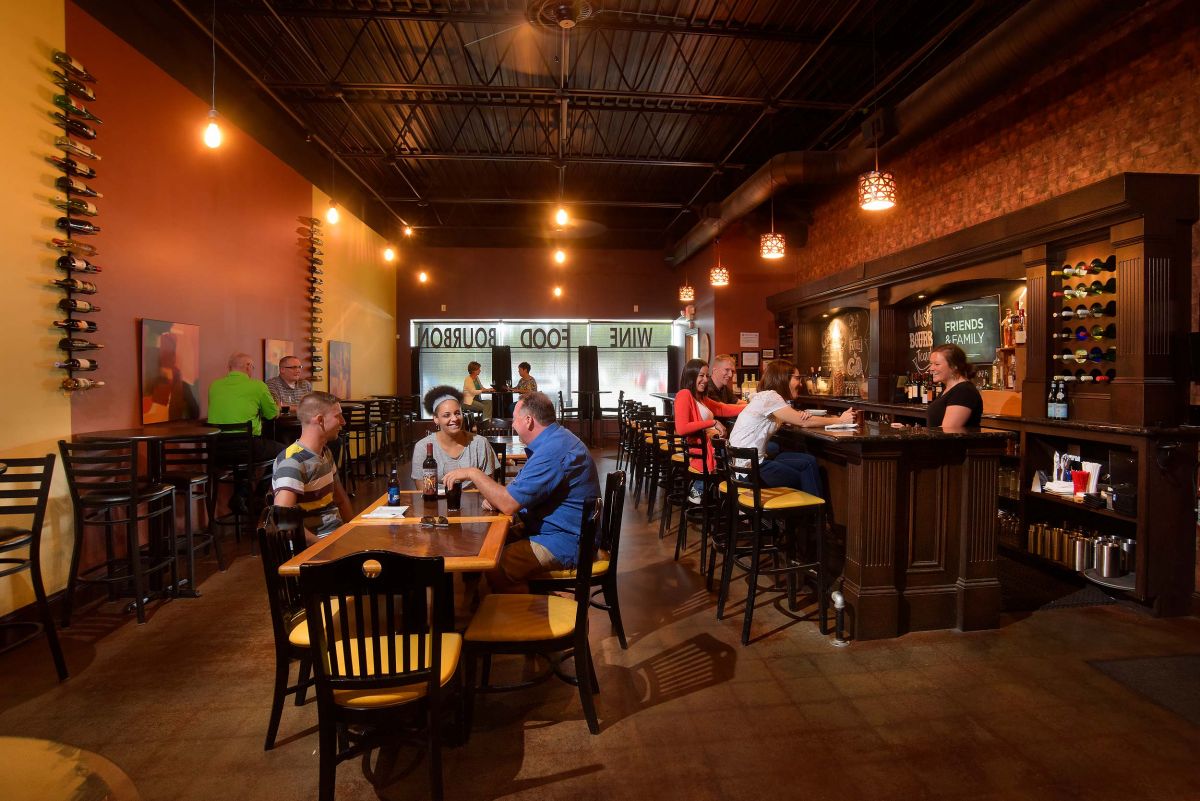 Paul and Pam work to constantly come up with new ideas for the Happy Grape to keep things interesting and attract more visitors. They are currently working on revamping their menu and working on collaborating with other Richland County businesses to provide local foods and events. "We want to bring a big-town feel to a small-town community" says Paul, hoping that great food and event offerings will help keep people local instead of driving to larger cities. They have recently offered guests margarita flights in addition to regular wine flights. Along with their wide selection of wines, they also serve from a full bar of spirits, draft beer and cask ales. The addition of Ken Dudley and Laxton Hollow Brewing Works is a great success. The pub, Laxton Hollow Brewing Works located inside The Happy Grape, is the only cask ale house in Ohio. Events are a great way for The Happy Grape to always try new things. "We get to develop whatever program we want" says Paul. Some of the more popular events include Robbie Burns Night (a Scottish holiday celebrating poet Robert Burns), St Patrick's Day, featuring special menu and bagpipes, Vinyl Nights, and Vintage Radio Nights. They have also connected with Lyft services, making it easy for patrons to get a safe ride home.
The Happy Grape has a lot of potential and Paul and Pam want to see it continue to grow and be a place where people can just come and have fun. "I hope it's a place that stays around for 20 or 30 years that people really enjoy". Paul also talked about community impact as most of the revenue created by The Happy Grape goes back into the Mansfield area for wine, ale, food, and entertainment. Originally the wine bar was only open four days a week, but now they are open all year round, hosting guests six nights a week. Paul had a lot of praise for customers and employees, The Happy Grape is a welcoming place for work and play. "I love to be there because I get to see my friends or else I'd work too much." Eat, Drink and Be Happy at The Happy Grape, for great wine food and entertainment.
The Happy Grape
300 E. Main Street
Lexington, OH 44904
Look for more articles in our seven-part Wine and Ale Trail series "Meet the Owners" featuring the owners of local wineries and breweries near Mansfield, Ohio.  Miss one?  See the other blogs in the series at www.DestinationMansfield.com