If you are in the mood for handcrafted brews, look no further than The Phoenix Brewing Company. Sample any of their flavors in their restored 1914 mortuary or soak in the summer on their patio. The Phoenix is Mansfield's only brewery and tasting room, located downtown with easy access to The Carrousel District, Brickyard and local restaurants. Featuring handcrafted beers, such as their Redemption IPA and Ferryman Stout, along with regional foods and wines, this spot is a mecca for beer enthusiasts, live music lovers and any traveling the area's Wine & Ale Trail.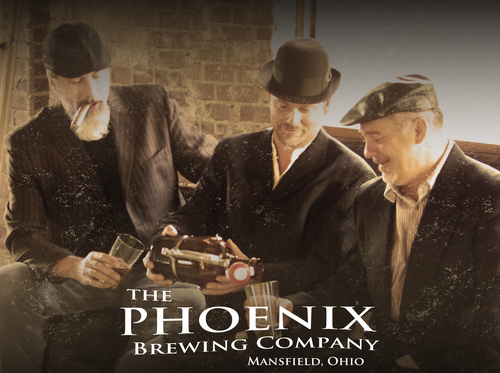 Meet the owners: Scott and Margot Cardwell, Duncan and Carmone Macfarlane, and Steve Zigmund. The Phoenix began when Scott and Duncan met at a party and began discussing Duncan's hobby of creating home-brewed beers. Scott used to be a science teacher from the area and immediately took notice of this new pursuit. "The science of brewing was very interesting to me", says Scott. His wife purchased him a home brew kit for Christmas and Duncan set to work helping him get started. After creating a few batches together, he and Duncan began discussing the possibility of opening a venue.
They knew they wanted to be downtown, in the middle of the other shops and where the people were. Before finding the old mortuary, they looked at several other buildings. "They thankfully fell through, because this place is perfect", said Scott. Scott also recalls driving past the abandoned mortuary often fifteen years prior and thinking how cool it would be to refurbish it. "I always had a dream of putting something in downtown, and at that point I didn't know how to brew."  One day the downtown building owner walked Scott through a building and suddenly he realized it was the old mortuary he remembered from all those years ago. "I just knew it was the place. Makes the hair on the back of my neck stand up, just thinking about it" said Scott. The former mortuary needed a lot of work. The coffin elevator had to be removed, original windows and doors were refurbished as much as possible and the brewing system moved into the former embalming area.
The Phoenix opened its doors in 2014, Duncan as the brewer and all the owners working the upstairs, with four unique beers to their name. The owners all still work behind the bar from time to time but their roles have greatly evolved with Steve handling the finances, Carmone in charge of marketing and Scott heading up sales. Today they have over 45 different beers, 7 of which are available year round and the others rotating seasonally. Their beers are themed, usually named after local attractions and history, mythology or the mortuary. Their unique tastes, ranging from their flagship offerings, to seasonal and special collections, have brought people from across the state to see them. "Every week there are people who pull off of I-71 just to stop by. Beer enthusiasts have embraced us and come regularly."
The popularity of The Phoenix Brewing Company is also due to their active participation in local events, with a patio just off The Brickyard, hosting Oktoberfest celebrations and taking part in Pour-1-9 Beerfest here in Richland County. "We love being part of the downtown community, seeing all the revitalization and repurposing of buildings downtown." They are also actively working with other businesses, pairing with food trucks, serving local wines and allowing carry-out from local eateries. "We aren't a restaurant," says Scott. "We would rather bring in what other people do well instead of trying to do it ourselves. We'll stick to what we do best."
In the future, the Phoenix hopes to either clean up the upstairs for private events, expand into nearby buildings or possibly even both. They are currently working on expanding their brewing capabilities and of course, continuing to inspire us with new flavors from the basement of the mortuary. The Phoenix is a must for anyone traveling near Mansfield. "I think Duncan makes extremely good beer," says Scott "and the reviews back that up." The Phoenix is definitely a fan favorite, from their packed live music events, to their annual anniversary party (featuring 31 beers on tap), to their classic beer flights served on coffin-shaped boards. Howlers and growlers as well as limited bottle releases are available for customers to take a little Phoenix with them. Take a tour of The Phoenix Brewing Company and taste the passion of each hand-crafted brew as The Phoenix resurrects tradition in bold new ways.
The Phoenix Brewing Company
131 N. Diamond Street
Mansfield, OH 44902
Look for more articles in our seven-part Wine and Ale Trail series "Meet the Owners" featuring the owners of local wineries and breweries near Mansfield, Ohio.  Miss one?  See the other blogs in the series at www.DestinationMansfield.com.