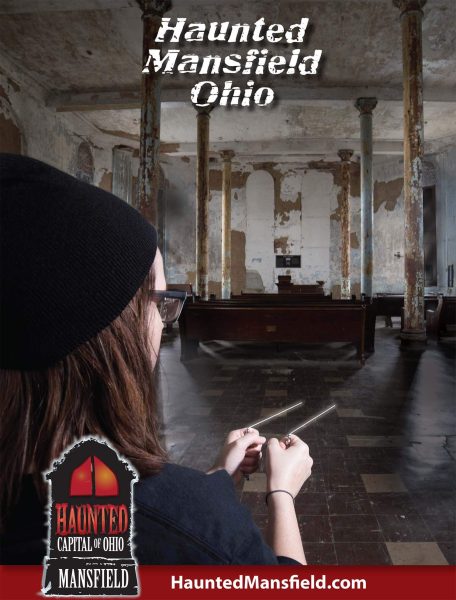 Known as the Haunted Capital, Mansfield, Ohio offers a range of frightful experiences that let visitors immerse themselves into some of the creepiest spots in the Midwest, including the Ohio State Reformatory. Featuring sites that have been featured on Travel Channel's "Ghost Adventures," SyFy's "Ghost Hunters" and Biography's "My Ghost Story," tens of thousands of visitors flock to the north central Ohio town to see if they can handle the host of haunted destinations that have earned Mansfield its spooky reputation.
This year, for the first time ever, neophytes can dive headfirst into the world of the supernatural with Ghost Hunting classes at Ohio State Reformatory. Taught by expert paranormal investigator Sherri Brake, classes are $115 per person and take place at 1 and 4 p.m. May 19 and Sept. 1. Students receive hands-on training in professional ghost hunting techniques, including proper protocol; how to use ghost hunting equipment, document evidence and communicate with entities; and local paranormal history and lore. After class, the group will return to the Reformatory for a private ghost hunt from 8 p.m. to 2 a.m., allowing newly minted paranormal investigators to test out their newfound skills.
Not for the faint of heart – or for travelers under age 13 — visitors can get up close and personal with the spirits that are believed to haunt the prison's halls with the ever-popular Ghost Hunts, which are offered several times each month and typically sell out quickly. New this year, Ghost Hunts are presented in two categories, including the Ghost Hunt Challenge, offered for first-time hunters beginning April 14 at $70. Intermediate/Advanced hunts are $100, begin April 21 and are open to those who have attended three or more ghost hunts, walks or classes in the past. Ghost Walks are available beginning April 20 for $25/adults and $20 for youths age 13-17. Doors open at 7 and 9:30 p.m., with walks beginning at 8 and 10:30 p.m.
The Ohio State Reformatory has gained an international reputation as one of the most haunted places in America, while also being an architectural and cultural treasure. The Reformatory first opened in 1896 and, after housing 155,000 men in its lifetime, its 1990 closing left a nearly 125-year history (and spirits) in its old cellblocks, warden's office and solitary confinement ward. Catapulted to fame after its role as the set location for the No. 1 movie of all time (according to IMDB), "The Shawshank Redemption," as well as other major motion pictures and music videos, year-round tours make the prison one of Ohio's most popular attractions.
BEYOND THE PRISON WALLS
Built in the same year and designed by the same architect who drew up plans for the Reformatory, the 132-year-old Bissman Building started its life in downtown Mansfield's historic district as a wholesale grocery warehouse. But experienced ghost hunters report that when the company closed its doors, "Not all of the employees left the building." Today, travelers can tour the haunted Bissman Building, as guides unveil its unique history, share stories of movies and videos filmed on site and reveal chilling tales of its ghostly spirits, including that of a former employee decapitated in the elevator. Regular Ghost Walks take place beginning in May at $10 per person. These do not sell out and no reservations are required. Guests under 18 are welcome with parent/legal guardian. Tours include a full-blown paranormal investigation and may be scheduled by calling (419) 295-5002.
Ghostly sightings also have been reported by staff and visitors alike at historic Malabar Farm State Park. Tales of flickering lights and appearances by the ghost of Pulitzer Prize-winning novelist and screenwriter Louis Bromfield – and his beloved bull dogs — intrigue ghost hunters. In addition to spirited visits by Mr. Bromfield, the farm is also home to the family house of Ceely Rose, a young woman who murdered her entire family in the summer of 1896.
At the Mansfield Fire Museum, strange happenings, such as a fire truck side mirror that appears to move on its own, have been experienced by both employees and visitors. Unexplained sounds when only one person is in the building, lights that flicker and shadowy figures of unknown people have been reported during paranormal investigations. Open Saturday and Sunday, May through October from 10 a.m.-4 p.m., the free tour points out known paranormal hot spots and occurrences. Guests are also welcome to schedule private paranormal investigations by calling (419) 529-2573.
A destination unlike any other, Mansfield and Richland County, Ohio offers unusual travel adventures and experiences, such as spending the night in a haunted former state prison where Hollywood blockbuster movies are shot, world-class motorsports, skiing, hiking, biking, golf, and loads of other outdoor adventures attract families and visitors of all ages.  Complete visitor information and free visitor guides are available at DestinationMansfield.com.
Submitted By Amy Weirick, Weirick Communications