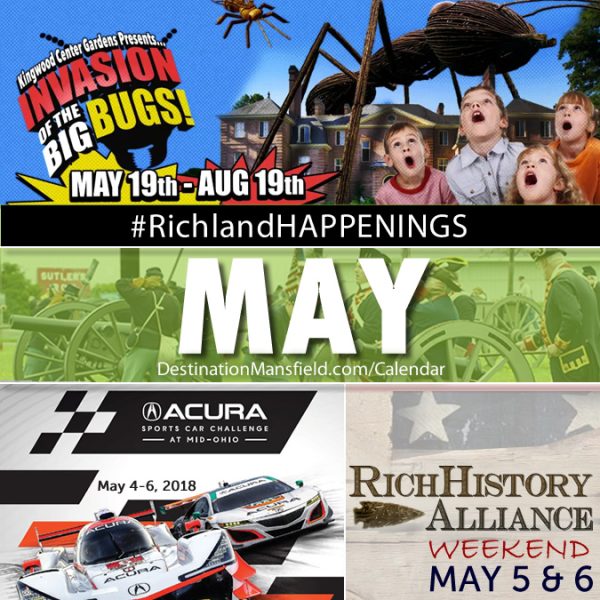 The month of May kicks off a lot of big events here in Mansfield and Richland County. Big Bugs invade Kingwood Center Gardens. Race Season roars into action at Mid-Ohio Sports Car Course. RichHistory Weekend returns with tours, hands-on projects, demonstrations and much more. Keep an eye on the Destination Mansfield – Richland County calendar as more events are added daily!
Start your month at the Mid-Ohio Sports Car Course for the IMSA WeatherTech SportsCar Championship (May 4-6). You can purchase season tickets so you don't miss any of the action. Grab your partner and head to Malabar Farm State Park as they kick off Spring Plowing Days (May 19-20) with the May Barn Dance (May 19). Plowing Days is a weekend of competition, food and fun for families as they see old fashioned plowing techniques go up against modern technology. While you're out with the family, take them to see the Big Bugs at Kingwood Center Gardens. Massive sculptures will wow you as you wander the blooming spring gardens of this 47-acre estate. This exhibit stays live May through August. Get away from traditional car shows and enjoy the extreme upgrades (and sometimes downgrades) of the Dropt-n-Destroyed Car Show (May 26) at the Ohio State Reformatory.
Go back in time and explore Richland County during the 2nd Annual RichHistory Weekend (May 5-6). From hands-on activities at Malabar Farm State Park and tours of some of our most famous houses to the reenactments of the Ohio Civil War Show (May 5-6), RichHistory Weekend proves to be an immersive experience for the whole family. Head to downtown Mansfield for the Secret City Tour (May 5), when historic buildings open their locked doors and abandoned upper rooms for tours. Check out the haunted history of Mansfield as Public Ghost Walks begin at The Ohio State Reformatory and Bissman Building (May 4). Or try Ghost Hunting 101 with Sherri Bake (May 19) at OSR, giving you the tools to do your own paranormal walk in the dark through the century old prison.
The arts are in full bloom here, bringing beauty indoors. The Mansfield Symphony Youth Orchestra performs their Spring Concert (May 6) at the Renaissance Theatre, followed a week later by the Mansfield Symphony's Joyous Finale (May 12). Travel through classic tales with a twist during the Youth Opera Theater Group's production of Into the Woods (May 26-27). The Brickyard outdoor stage is proud to announce the beginning of their Final Friday Concert Series (May 25), check back as the entertainers are chosen!
For a full list of area events, visit www.DestinationMansfield.com