Meet the Owners, Wine and Ale Trail Series
Laxton Hollow Brewing Works specializes in producing small batches of cask ale in Lexington, Ohio. This nano-brewery create British-style beers in casks, creating a softer level of carbonation and more complex flavors than alternatives due to the time-honored way it is conditioned and served.  Visitors can enjoy hand-pulled pints of Laxton Hollow's cask ales at a traditional alehouse located in The Happy Grape Wine Bar & Bistro. Come in and try something new.

Meet the owner: Ken Dudley. Ken grew up in the Lexington area and took up brewing at home as a hobby when he was in college. With the opportunity to attend college in London, England, Ken explored the long traditions of ale-making in the British Isles. Cask-conditioned ales tend to be more complex, with more flavor notes and a rounder smoother flavor. Ken came back to the states looking for the ale he liked. "I kept waiting for someone to open a brewery that made this kind of ale." Less than a dozen cask-ale breweries exist in the entire U.S. So, in 2016, Ken opened his 280 sq ft nano-brewery in Lexington. The Happy Grape installed the alehouse in store to accommodate the equipment needed to pump the naturally carbonated beer into glasses. They serve three different varieties: Laughing Pirate (Porter), Rigsby's Grotto (Golden), and the house favorite, Lord Badger(Bitter).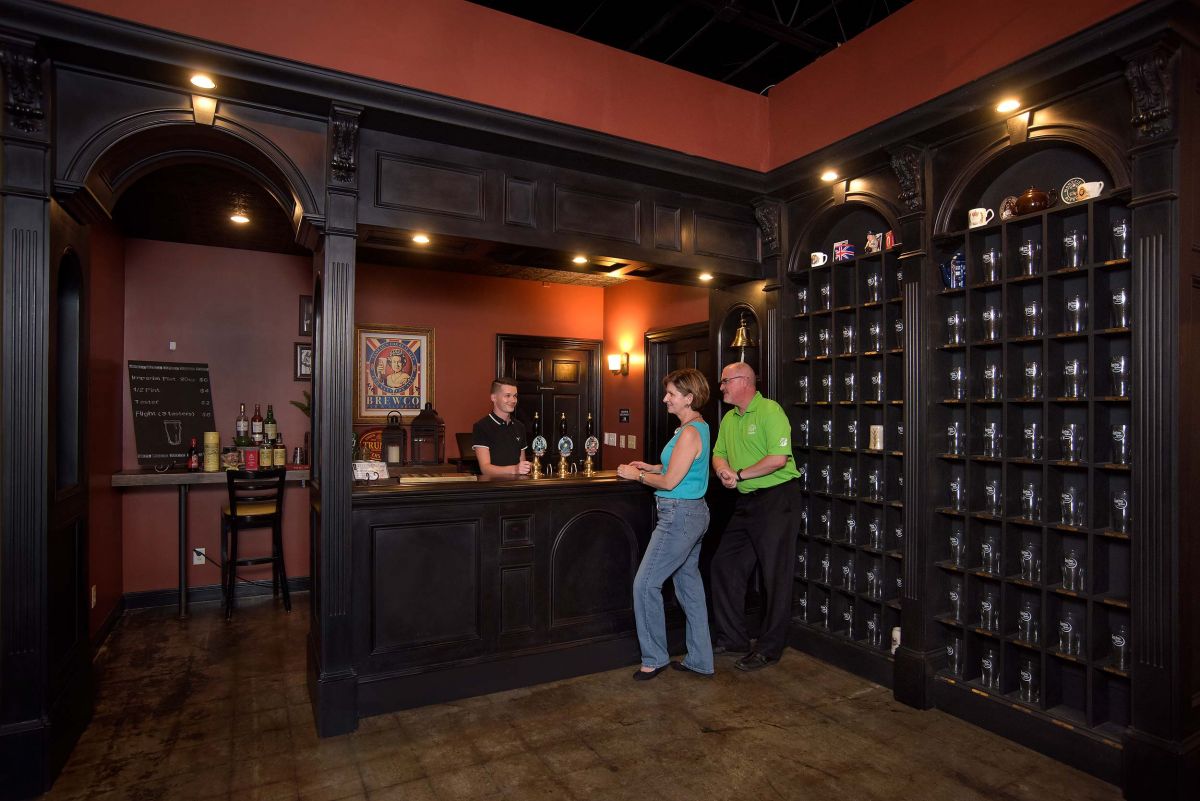 Ken explains that cask ales are a fundamentally different product than what Americans are used to, all the way down to the look, smell, and taste. "If you're going to try our cask ales, you have to change your expectations about beer," says Ken. Cask ales are served slightly warmer, at 52⁰ to be exact. This is because of the key ingredients which separate this traditional ale from the rest. The casks at Laxton Hollow contain live yeast, naturally carbonating and conditioning the beer over time. For this reason, it cannot be bottled or canned but must instead use a system of pumps, coolers and "beer engines" to dispense it via tap in an alehouse. Most beers use a "forced carbonation" process which makes them easier to produce but can diminish flavor and body. This past Christmas, Ken used some German innovation to create "Grab-a-Cask". This allows the ale to be sold to-go. They sold out quickly and hope to restock again soon.
Ken believes the extra work is worth it to recreate the classic flavors he found in England and Scotland. "I love bringing this type of ale to people." Laxton Hollow is the only cask-ale Brewing Works in Ohio and Ken hopes to distribute more widely throughout North Eastern Ohio. "It's something that just doesn't really exist in the US…we have to create a market for it." This means getting the name out there, going to festivals (such as the Pour-One-Nine Beerfest here in Mansfield) and convincing businesses to invest in the set-up required to pour traditional cask ales. "It's not for everyone, but I've seen some people fall in love with it and that's what matters." How will you know unless you try?
Laxton Hollow Brewing Works
302 East Main St.
Lexington, OH 44904
Look for more articles in our seven-part Wine and Ale Trail series "Meet the Owners" featuring the owners of local wineries and breweries near Mansfield, Ohio.  Miss one?  See the other blogs in the series at www.DestinationMansfield.com.