When offered the opportunity to experience the slopes for myself at Snow Trails in Mansfield, Ohio's premier resort for skiing, snowboarding, and snow tubing, I was thrilled. Skiing hasn't been high on my list of winter activities since I never made it past the "pizza" or "snow plowing" stage as a kid. Little did I know, I was in for a fabulous winter experience at Snow Trails.
There's more than skiing and snowboarding at Snow Trails. I immediately jumped at the chance to check out all the buzz behind the insanely popular Glow Tubing nights at Snow Trails. Sliding down a tubing run seemed more my speed and tickets for Glow Tubing sometimes sell out within the hour of going on sale. Now this, I could not miss.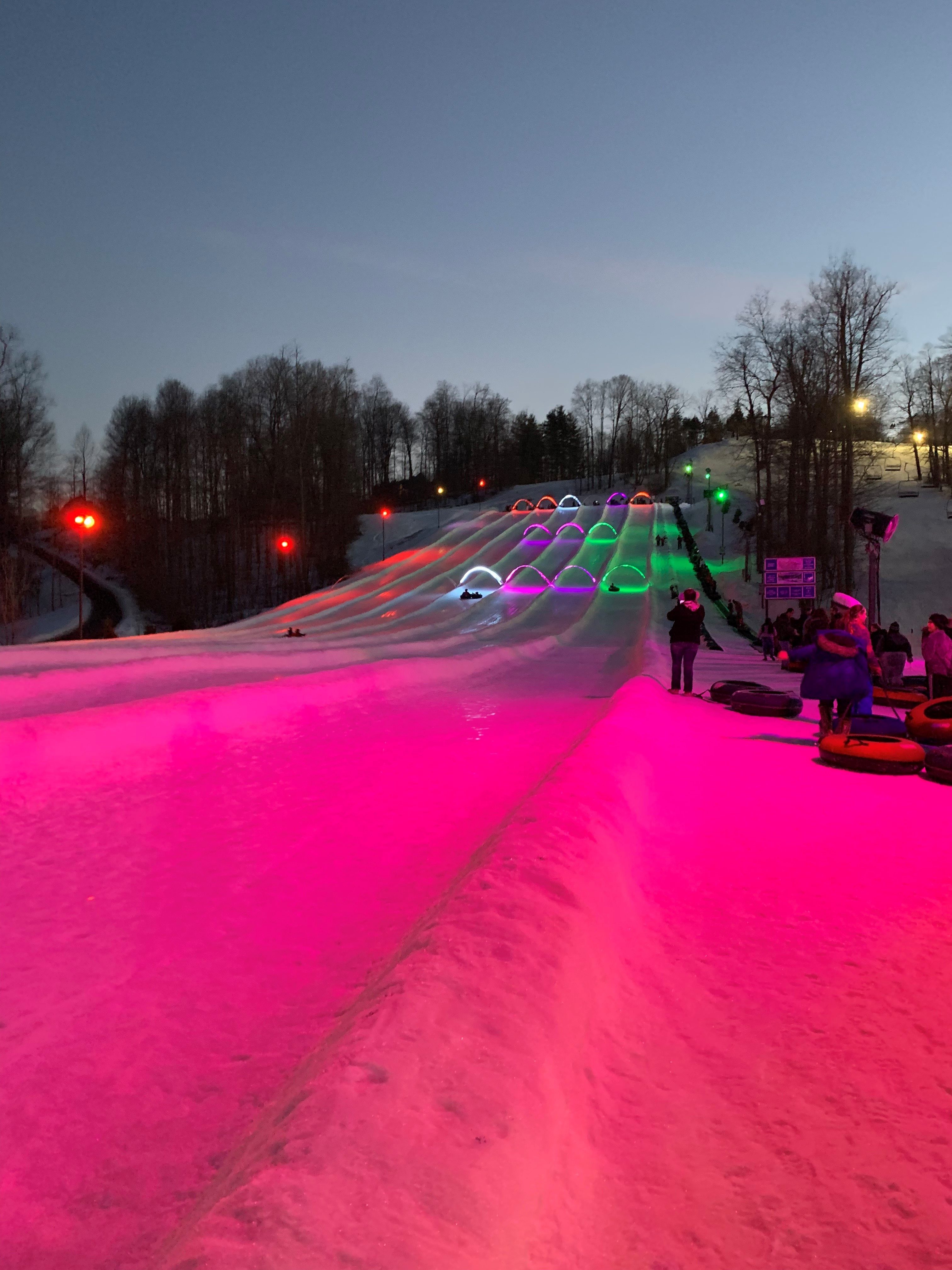 It was an unseasonably warm day for February in Ohio when my husband, Sam, and I pulled into Snow Trails. When we opened the car doors, the sound of screams could be heard from the back of the lot. I decided to take these as screams of delight and a good sign of what was to come. We grabbed our lift tickets and our innertubes and took our place in line to get on the carpet lift to the top of the hill for the Vertical Descent Tubing Park. From the line, we watched people fly down the lanes along the snow-covered hill. "How fast do you think they go?" I asked Sam.
"I don't know, but the big groups look like they're flying." He then informed me that he wanted to go down face-first. (Reader, he chickened out.)
We got to the top of the hill in a matter of minutes without wearing out our legs thanks to the lift. Climbing up the hill was always the worst part of sledding as a kid. That and chasing down a loose sled. We hopped into one of several tubing lanes as dusk started to fall and the multicolored LED lights lit up the hill.  I was still a little nervous as we lined up our tubes for our first trip down.
An employee tugged us forward and down we went. We started slowly at first but quickly picked up speed.  I couldn't resist a scream or two as we crested the second mound and started down the steepest part of the hill. At the bottom of the hill our tubes started to spin, adding to the fun. Thanks to dropping temperatures after a day of sunshine and 50-degree temperatures, the run had started to ice over. We zipped all the way to the end and then broke apart to slow ourselves down.
My husband and I agreed that the ride was awesome fun. We both love thrill rides like rollercoasters, and Vertical Descent had the delightful drops and the thrilling speeds of a winter rollercoaster ride. We got in five more rides that hour. Even with the park at max capacity for glow tubing, we got in a ride about every 10 minutes.
To Know Before You Go…
Reserve ahead online at Snowtrails.com. The hype is real for glow tubing, so make sure to purchase your tickets well in advance. Even if you show up for earlier tubing times in the day, there's a chance the two-hour tubing lift tickets will be sold out. There's a limited number of tubes and tickets available, but this ensures that guests spend as much time as possible riding and not waiting in long lines. Tickets go on sale every Monday at 11 a.m. for the following two weekends.
Find a cozy spot to warm up. Snow Trails has plenty of places to get out of the cold. My husband and I grabbed some snack bar staples from the Tubing Lodge where you can either warm up in the lodge while watching tubers from the panoramic windows, or around the fire pit outside. In the main lodge, you can enjoy table-service dining at The Last Run Bar & Deli. The Snowflake Loft Bar is the place to grab a drink to sip around the free-standing indoor fireplace or while you watch live entertainment on the stage every Saturday night making it a winter hot spot.  If you're in a hurry, Joe's Cafeteria has grab and go options so you can refuel and get back to the slopes as soon as possible.
No skills needed. Seriously. This is the perfect activity for everyone. We saw all ages having a blast at the tubing park, including some grandparents,  and you don't need to bring anything with you except perhaps some warm layers to bundle up against the cold.
If you get hooked on the outdoor fun and want to try skiing or snowboarding, the resort offers a beginners' area, children's programs, and lessons for all ages.
Check Snowtrails.com to view park times and to purchase your tubing tickets and reserve your time slot before the snow is gone.  Don't wait and miss your chance to enjoy all the spectacular snow tubing fun.