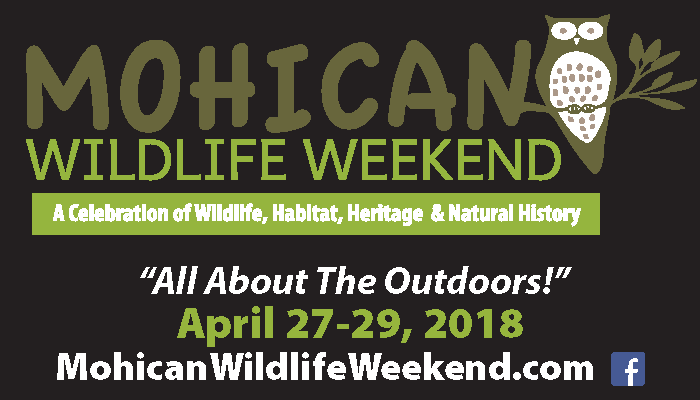 Come join the fun April 27th-29th for the 20th Mohican Wildlife Weekend! This year includes over 30 programs to choose from, enriching the mind with tons of activities for any age. The activities are located across 13 locations over the course of the weekend. This unique opportunity allows curious minds to learn about the rich history and beautiful wildlife abundant in Richland and Ashland counties.
Every seminar and demonstration offers something different than the last during Mohican Wildlife Weekend. On Friday night, start your weekend off with Jacob "Moose" Coffy, the keynote speaker for the weekend! Coffy is an Appalachian Trail 2016 hiker and will speak about the pursuit of his dream of hiking the entirety of the Appalachian Trail. The trail is a 2,200-mile path stretching across 14 eastern states and took Coffy 4 months to finish!
Head over to the Sunset Hike at Byers Woods followed by a campfire cookout at Charles Mill.  Saturday, the early bird gets the worm with Birding for Beginners at the Gorman Nature Center. If a stroll is more your speed, meet at the Ohio Bird Sanctuary for a leisurely walk in the woods. Got a shutterbug in the family? Then the Photography of Raptors is the session for you!
The best way to enjoy all the weekend has to offer is to stay overnight! Area lodging provides convenience for travelers with close access to program sites! This weekend is a great opportunity to see the blossoming fauna and flora of the Mohican Area. There are events for all ages, even the elderly! Kick off spring in the great outdoors.
More information can be found here at mohicanwildlifeweekend.com
Check out the full schedule of events!
Submitted By: Sarah Zelner, Destination Mansfield Intern