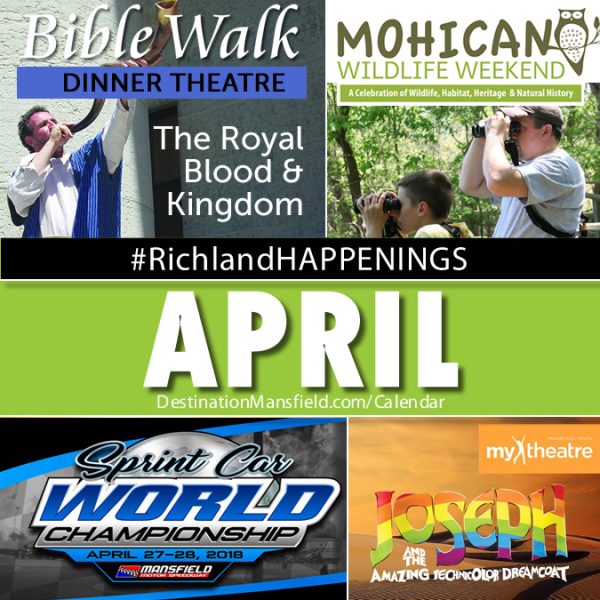 April brings the promise of warmer weather and Spring fun! Explore the great outdoors during Mohican Wildlife Weekend. Open your race season at Mansfield Motor Speedway. Celebrate Passover with a dinner theater at BibleWalk. See the Destination Mansfield – Richland County calendar for more great ideas!
Get closer to nature at Mohican Wildlife Weekend (April 27-29). This annual event takes place at multiple sites across Richland County and Ashland County with 11 program sites and over 30 events.  Activities include hiking, birding, geology, wildflowers, animal petting, and even a sunset hike and campfire cookout. Come explore the wild in your backyard.  Kingwood Center Gardens opens for their season April 1, everyday 9-7. Check their website for upcoming workshops, dinners and festivals.
Start your racing season right at the Mansfield Motor Speedway and the Sprint Car World Championship (April 27).  Then, plan to attend IMSA the newest race at Mid-Ohio in early May. Tickets for both Mansfield Motor Speedway and the Mid-Ohio Sports Car Course are on sale now.
Spend an evening at one of Mansfield's quality theaters. Celebrate Easter with a traditional telling of the Passover tale at BibleWalk's Dinner with Grace. Make reservations for the Dinner Theatre's production of Royal Blood and Kingdom (Fridays in April). The, two great shows are here to delight at the Renaissance Theatre. The Tony-Award winning musical Ain't Misbehavin' (April 12-15) celebrates the life of swing musician Thomas "Fats" Waller, while Joseph and the Amazing Technicolor Dreamcoat (April 20-22) presents the rags-to-riches tale of the Biblical hero Joseph humorously and with much song and dance. Laugh your way through the romantic comedy You Say Tomatoes(April 27-28, May 4-6) at Mansfield Playhouse, as an American film critic and a British author move from spite to like in this transatlantic battle of the sexes.
The Ohio State Reformatory opens fully for the season beginning April 1st . Guided tours will be available every day 11-4. Whether you are interested in the Hollywood history of the movie filming site, traveling the Shawshank Trail, or just love gothic architecture and history, the reformatory is a wonderful place to explore on any given day. Have an interest in the paranormal? The Ohio State Reformatory is also the site of multiple ghostly sightings and popular paranormal TV shows. The Reformatory offers three main programs.Ghost Walks (April 20) lead you on a nighttime tour of the facility and regaled with ghost stories. Ghost Hunt Challenge(April 14, 28) is a beginners class in ghost hunting followed by an individual exploration of the prison. And finally, the Intermediate/Advanced Ghost Hunts (April 21) offers small groups of experienced ghost hunters, the pros,  a night long investigation. Work your way through the programs to become a great ghost hunter.
Good weather events are on the rise! Be sure and check our Calendar of Events for all your favorite spring and summer happenings.