Areas Along Bellville Biking Trails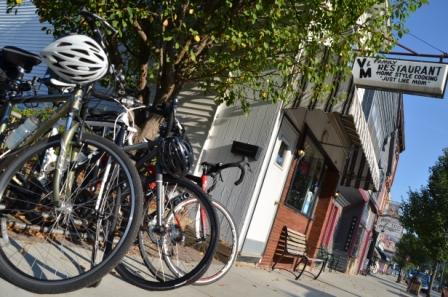 Bellville, a "Norman Rockwell" like village with tree lined streets and a beautiful 1878 Victorian Bellville Bandstand in the center of town, is perfect for exploring by bike or foot.  Exit the trail at the Bellville Depot which houses public restrooms, water and shelter.
Along Main Street (and across the Clear Fork Mohican River bridge) are locally owned restaurants, shops of all kinds including antiques and historic B&B's.  From the Depot exit, travel south on Bell Street, using the alleys to the left by the Library or U.S. Post Office to reach the businesses on Main Street (also accessible by foot).
Bike racks are provided at the Depot, west of the blue bridge and near Main Street businesses.  Traveling farther south on Bell Street you will find Amvets Community Park with a skate park, pavilion and restrooms.
Hotels, restaurants, golf course, miniature golf and other establishments may be found near the intersection of I-71 and SR97.