Tourism Economy
Our attractions, our natural resources, our cultural heritage and our sense of Mansfield/Richland County pride attract visitors to our region. Tourism adds to our quality of life and makes our communities attractive places to live, work, conduct business and visit.
The visitor economy includes products, services and sites located throughout our area, including: overnight accommodations, attractions, restuarants, retail outlets, entertainment venues and indoor/outdoor recreational opportunities.
Visitor expenditures represent "new dollars" for our local economy. Residents certainly contribute to a hospitality businesses bottom line. Attracting visitors, on the other hand, provides an additional positive economic impact that otherwise would not have been included in sales and tax revenue.
Richland County Tourism & Hospitality Industry Snapshot
$354.3 million in Total Sales
Supports 4,662 jobs with a payroll of $101.6 million
$8.9 million in local taxes
Tourism/Hospitality is the 4th largest employer in Richland County*.
Tourism/Hospitality is a diverse composite of economic activities including Arts, Entertainment, Recreation, Accommodations, and Food Service sectors.
*Source: data confirmed by Richland County Regional Planning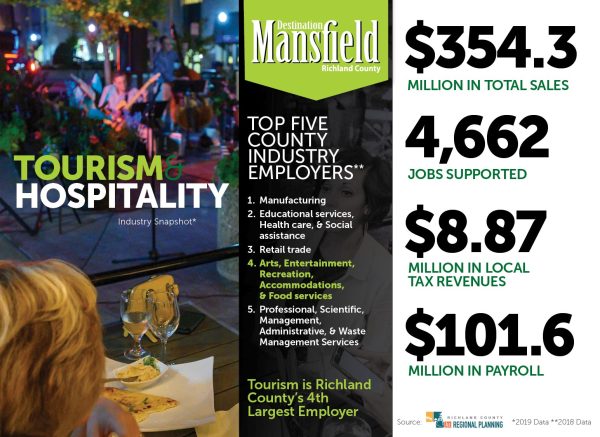 State of Ohio Annual Data
$48 billion in sales for Ohio businesses.

Average Spending per Person is $114 for a Day Trip
Average Spending per Person is $379 for an Overnight Trip

226,000,000 Statewide Tourism Visits
431,000 jobs were sustained by visitors to Ohio
Source:  Tourism Ohio/Industry 
U.S. Annual Data
$1 trillion in direct travel spending.
$164.7 billion in tax revenue for local, state & federal governments.
8.8 million direct travel-generated jobs.
15.6 million direct & indirect jobs (1 out of every 9 jobs).
$258.8 billion in wages shared by American workers directly employed by travel.
Source: www.ustravel.org