K.E. McCartney Memorial Building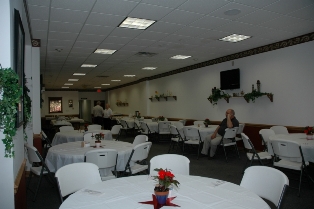 Phone:
419-522-0673
Email:
krkreiger@gmail.com
Address:
16 South Park Street
Mansfield, OH 44902
Looking for an "affordable" location to have an event... a wedding, reception, graduation, anniversary, family or class reunion, wake, business meeting... the K.E. McCartney Building located in the Historic Section of Mansfield Ohio is perfect for you.

Free parking evenings and weekends, two large rooms for dining or meeting. A large bar, warming kitchen (you may bring your own caterer), large round tables plus long serving tables. Chafing dishes are available for a small fee.
A dance floor, beautiful bathrooms large enough for dressing rooms with long mirrors. Closed circuit televisions, speaker podium, large screen television, and speaker system. Rooms are large enough to afford various types of seating arrangements.

We have a smaller, Pub like room with bar, pool table, television for the more intimate party or meeting. This small rooms holds 30 and has its own private entrance.


Within walking distance to area Restaurants, Mansfield Municipal Building, Richland County Court House, Richland Carrousel Park, Hotels and Historic Carrousel District.

Call today for information to allow you to enjoy your speacial event in our beautiful facility.

Amenities:
Handicapped Accessible, Conference Rooms Available, Internet Access, TV/VCR/DVD


Meeting
Room
SQ.
FT.
Width By
Length
Theatre
Seating
Banquet
Seating
Classroom
Seating
Reception
Seating
East Room
1098
18' x 61'
60
60
N/A
N/A
West Room
1496
17' x 88'
80
80
N/A
N/A
East & West
2594
35' x 88'
160
160
N/A
N/A

Largest Meeting Room:
1496 Sq. Feet

Total Meeting Space:
2594 Sq. Feet

Dinner Seating Capacity:
160

Theater Style Seating Capacity:
160

Hotel Rooms Available:
3