Paranormal Penitentiary at Ohio State Reformatory!
Saturday, October 15, 2016
7:00 pm - 8:00 am
Address:
100 Reformatory Road
Mansfield, OH 44905
Presented By: Robert Kurtzman's Creature Corps & Mansfield Reformatory Preservation Society


PARANORMAL PENITENTIARY (2016)
"Monster Lockdown"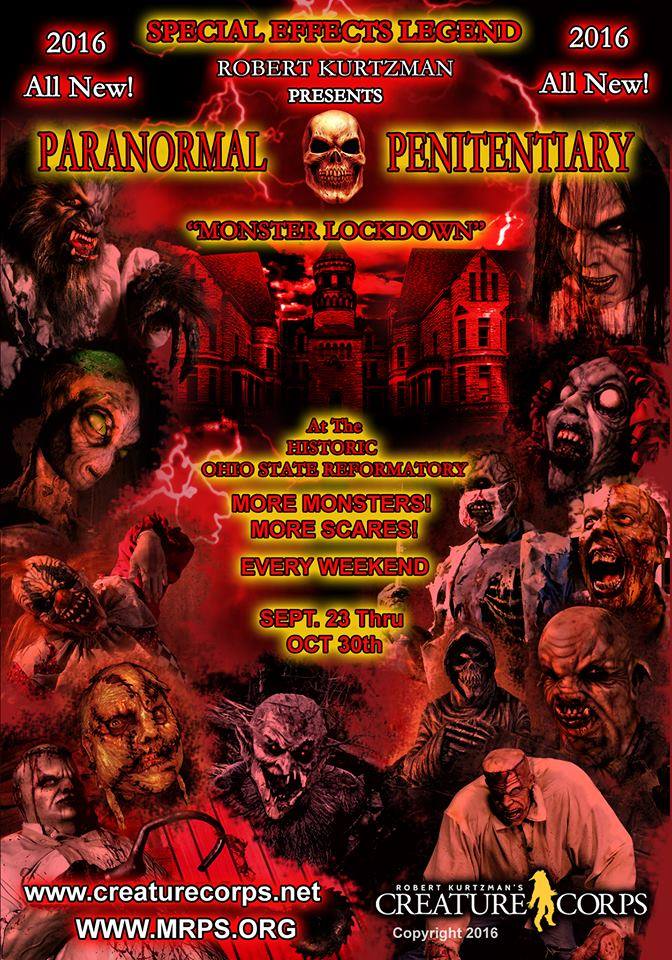 Visit the Ohio State Reformatory for 2016's Paranormal Penitentiary experience! Every Weekend September 23 - October 30, 2016.
For general information and to purchase tickets, click here.


---
The Story:
The year- 1964, a secret society of monster hunters and occult warriors from around the world have established a heavily fortified monster containment facility in the heart of Ohio. They are called The SOD-Slayers of the Damned.

Behind the gothic stone walls of the Historic Ohio State Reformatory, the SOD have imprisioned hundreds of creatures from this world and beyond. Their mission - to understand the nature of these creatures through scientific study and to ensure the safety of mankind. Until the night it all goes horribly wrong...
October 2016. A violent inmate has broken free and has released the evil creatures from their cells. Now the Slayers of the Damned (SOD) must battle to take back control of the facility before the monsters can break our beyond the walls and once again terrify our world!

Think Guantanamo Bay for monsters and madmen. Code named, "Paranormal Penitentiary."
---
« Back to Calendar