Columbus Day at Richland Carrousel Park
Monday, October 13, 2014
11:00 am - 5:00 pm
Address:
75 N Main St
Mansfield, OH 44902
Presented By: Richand Carrousel Park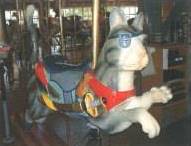 Stop in the gift shop and tell us WHY we celebrate Columbus Day and receive a FREE ride & piece of candy!


Beginning October 18th our animals will be "dressed" for Halloween in their finest masks and our doors will be painted with a fall scene, thanks to the students at Pioneer Performing Arts. Stop in and check them out!
FALL HOURS BEGIN SEPTEMBER 2ND
11:00am-5:00pm seven days a week
Closed the following Days per Year: New Year's Day, Easter, 4th of July, Thanksgiving and Christmas. January 2 - 8, 2014 Closed for Maintenance.
« Back to Calendar