24 Hour Comics Day
Saturday, October 4, 2014
12:00 pm
Address:
104 North Main St
Mansfield, OH 44902
Presented By: Main Street Books
On Saturday, October 4th, 24-Hour Comics Day returns! In the 24 hours between noon on the 4th and noon on the 5th, artists are challenged to create a 24 page comic. This challenge is open to all ages and artistic levels. It offers the unique opportunity to work among other like-minded comic book lovers, to share the creative energy and momentum. No participant is required to stay all 24 hours, but all are invited to stay as long as they want.
Some snacks and drinks will be available and several restaurants and a coffee shop are nearby. Bringing your own materials is encouraged, but some will be available. There will always be a store manager on the premises.
We will also be offering the opportunity to work on a collaborative project that will stay up in the bookstore. The project will serve not only as an example of the varying styles among the artists, but also as a testament to their creativity and drive.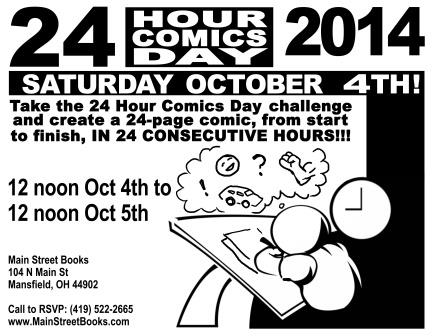 « Back to Calendar