Kingwood Center Summer Concerts
Thursday, July 17, 2014
7:30 pm
Address:
Courtyard Garden
900 Park Avenue West
Mansfield, OH 44906
Presented By: Kingwood Center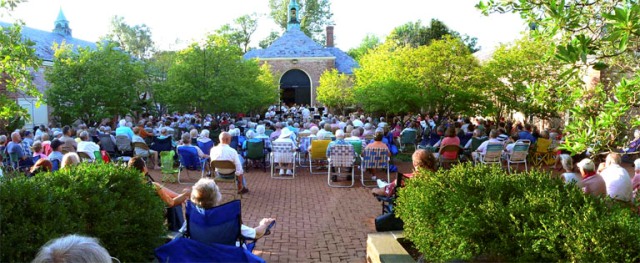 Kingwood Center invites you to enjoy our free Summer Concert Series. Concerts start @ 7:30 p.m. Guests are asked to park in the Trimble Ave. parking lot.
This concert is free, but please note that Kingwood Center has a $5 Admissions fee until 7 p.m. every day, concert patrons will not be admitted for free until after 7 p.m.
Some seating will be provided by Kingwood, but it will be limited. We encourage you to bring your own chairs.
2014 Summer Concert Schedule:
Thursday, June 26 - "Stardust", music of the 30's - 50's
Thursday, July 10 - AFM "18 Piece Jazz Band"
Thursday, July 17 - AFM "50 Piece Concert Band"
Thursday, July 24 - "The Ribticklers", Dixieland/Swing/50's - 70's
Thursday, Aug. 7 - "Percy Hall Dance Orchestra", Standard Swing Tunes
« Back to Calendar