The Ontario 4th of July Festival
Friday, July 4, 2014
12:00 pm - 11:00 pm
Address:
Marshall Park and Ontario Middle School
Ontario Middle School
Ontario, OH 44906
Presented By: City of Ontario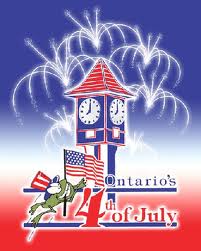 July 3, 2014 – Ontario Growth Association night at Marshall Park, Ontario. Consisting of the Mike Martin Memorial Car Show with Classic and Show cars. Registration at 5:30 pm. Corn-hole, volleyball, and basketball competition. Door prizes, raffles, concessions, and course music provided by Sound Sensations DJ! Events start at 6:00 pm.
July 4, 2014 – Ontario 4th of July Festival, 12:00 noon to 11:00 pm, at the Ontario Middle School. All kinds of games, contests, food, parade at 4:15 pm, entertainment with Sound Sensations DJ and comedy hypnotist, T.G. Rivers on the main stage. We have the staple event of the Ontario Lions Club frog jumping contest in the early afternoon. Please bring your own frogs! Fireworks at 10:00 pm weather permitting. Listen to Mix 106.1 FM for live broadcasts and festival updates leading up to and the day of the festival. Don't forget the annual prize raffle with prizes donated by area merchants. $1.00 per ticket, winner need not be present to win. Questions about the raffle or merchants wishing to donate prizes/services please email: raffle@ontario4thofjuly.com.
For volunteering questions, email: volunteer@ontario4thofjuly.com.
Click Here For Directions
« Back to Calendar