Ragamuffin: The Story of Rich Mullins
Friday, May 2, 2014
8:00 pm
Address:
296 Park Avenue West
Mansfield, OH 44907
Presented By: Mosaic Mansfield Church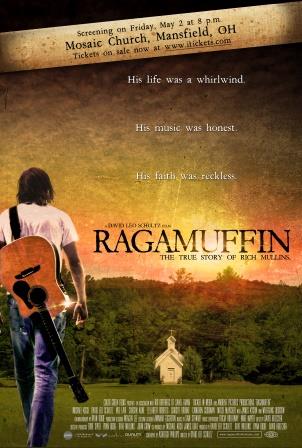 Mosaic Mansfield Church is proud to announce an upcoming screening of the film "Ragamuffin" on Friday, May 2, 2014 at 8:00 PM. The film will be projected onto a big screen in the sanctuary of Mosaic, and is one of hundreds of screenings planned in small venues across the country.
Christian singer Rich Mullins loved an "Awesome God." That song, his most famous composition, is sung in churches all over the world. Mullins died in a car accident in 1997 at 41, and "Ragamuffin" is based on his life
Mullins, a musical prodigy who rose to Christian music fame and fortune only to walk away and live on a Navajo reservation. An artistic genius, raised on a tree farm in Indiana by a callous father, Rich wrestled all of his life with the brokenness and crippling insecurity born of his childhood. A lover of Jesus and a rebel in the church, Rich refused to let his struggles with his own darkness tear him away from a God he was determined to love. As he struggled with success in Nashville and depression in Wichita, Rich desired most of all to live a life of honest and reckless faith amidst a culture of religion and conformity. He was a prophet and a poet and a beggar, more comfortable with the homeless than the wealthy, more in love with Jesus than religion, more interested in the music than the song. He felt too much, and held too much. He searched desperately his whole life for a way to belong down here, but he never did. He was just passing through.
Watch the official trailer
Tickets are $10 each and can be purchased by visiting the office of the church with cash or checks during normal business hours or online itickets.com if you prefer the convenience of using your credit/debit card. We are also happy to give churches and other groups' blocks of tickets to sell in a location convenient to them. See the contact information below to arrange this.
« Back to Calendar