Art of the Brick International Exhibition
Sunday, December 1, 2013

Address:
Mansfield Art Center
700 Marion Ave.
Mansfield , OH 44906
Presented By: Mansfield Art Center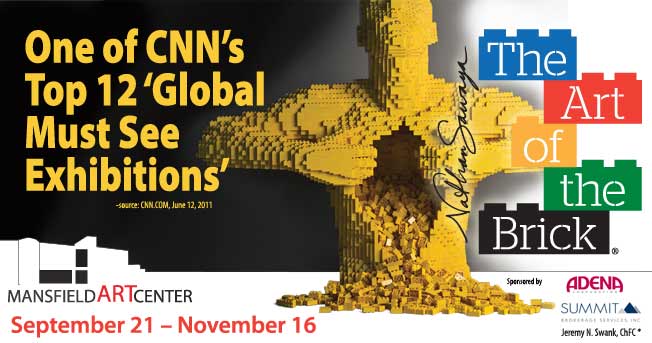 EXTENDED THRU DECEMBER 29TH!
The Mansfield Art Center is proud to present Nathan Sawaya's Art of the Brick. This internationally acclaimed exhibit is touring North America, Asia and Australia. The New York based artist has four unique exhibitions created solely from standard LEGO bricks. As an art form medium and artist, Nathan Sawaya has taken it to new heights.
This exciting show is at the Art Center from September 21 through December 29, 2013. The Mansfield Art Center is open Tuesday-Saturday from 11:00 a.m. - 5:00 p.m. and Sunday from noon to 5:00 p.m. The Art Center is closed on Mondays.
TICKET INFORMATION
$10: 16 and up
$5: 16 and under
Under 12 must be accompanied by an adult.
Purchase Tickets HERE or call 419-756-1700
OHIO BRICK CREATION CHALLENGE
The Mansfield Art Center is delighted to invite Ohio residents to use their own LEGO® pieces to create and compete in this fun state-wide contest and exhibition. Please click HERE for more information.
Download entry form HERE.
BRICK BUILDING INTERACTIVE AREA
FUN for kids and adults! After you have been inspired by Nathan's exhibit—stop to do some of your own building. Tables and chairs will be set up on the lawn and tubs of LegO® bricks will be provided. (We gladly accept any donation of extra bricks [LegO bricks only] you might have at home.Drop them off at the MAC at your convenience.)
Outside only– Weather Permitting
« Back to Calendar