Holiday Parade
Saturday, November 23, 2013
10:00 am
Presented By: Downtown Mansfield, Inc.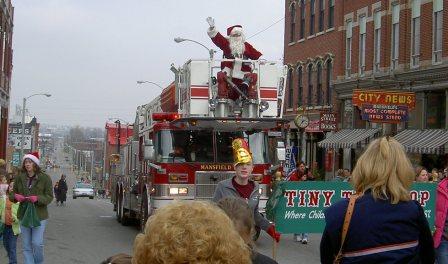 Downtown Mansfield kicks off the holiday season with the Holiday Parade. Be sure and bring your letters to Santa as he will be making a special trip from the North Pole for the parade. Step off is at 10:00am on the corner of 5th Street and Main Street. The parade will move south to Central Park, and then west to Walnut Street. If you're interested in participating in the parade, please contact Downtown Mansfield, Inc. at 419-522-0099 or office@downtownmansfield.com.
Saturday, November 23 also marks the opening of the Tiny Tim Shoppe. The Tiny Tim Shoppe is a place where kids can shop for the people in their lives. This volunteer assisted Christmas shoppe is for children ages 12 and under, with gifts priced at $6.00 or less. Participating children fill out a shopping list with the help of their parents, and then are escorted through the shoppe with a volunteer who assists in making their selections. The volunteer then helps the children gift wrap and tag each gift before they leave the shoppe. Dates for the Tiny Tim Shoppe are: Saturday, November 23, November 30, December 7, December 14 and December 21, from 10:00am until 4:00pm; and December 6, from 5:30pm until 8:00pm.
Have breakfast with Santa at Ed Pickens' Cafe on Main before the parade and have your picture taken with Santa at the Richland Carrousel Park!
« Back to Calendar