Great Pumpkin Glow
Saturday, October 19, 2013
4:00 pm - 9:00 pm
Address:
900 Park Avenue West
Mansfield , OH 44906
Presented By: Kingwood Center
The Great Pumpkin Glow is a fun event for people of all ages. Kingwood's grounds will be decorated in a Fall Harvest theme. There will be HUNDREDS of carved and lit pumpkins as well as gourds, mums, hay bales, corn stalks, holiday lights and other glowing decorations. Food vendors will be set up in the Trimble Rd. parking lot selling a variety of different things to eat. Guests will also have the option to buy a ticket to ride on a horse drawn hay ride around parts of Kingwood Center.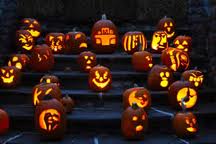 Admission to Kingwood Grounds for The Great Pumpkin Glow is just $5 per person, children 6 & under are free. Tickets to ride the hay rides are $3 per person.
Other Important Event Details:
• Parking for The Great Pumpkin Glow will be at Arlin Field. Entrance will be on Trimble Rd. and exit on 4th Street.
• Kingwood will be open Thursday, October 17th and Friday, October 18th from 3 PM – 7 PM for anyone who would like to carve a pumpkin to be displayed in The Great Pumpkin Glow. We will have food available to purchase from the Eat More Bundt Co. so no one will have to carve pumpkins hungry.
• Kingwood Center will not be open the day of The Great Pumpkin Glow until the event begins at 4 PM.
« Back to Calendar