Prairie Peddler Festival ranked in the top 200 craft shows in the country
September 19, 2012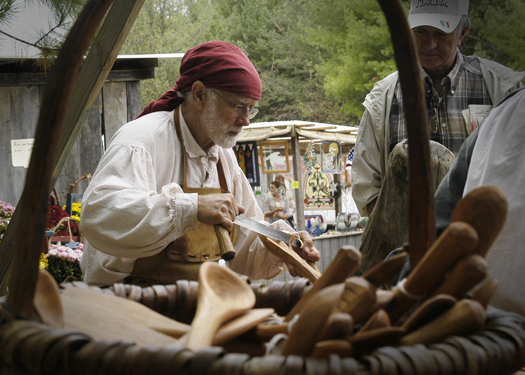 This Fall guilty pleasure rated number one in my book.
Who doesn't love Fall in Ohio with its gradual transition from green to the warmth and riot of rich colors, sunny days and temperate air, and of course, the Prairie Peddler Festival! It must be that time again: I dreamed of the scent of a good bean soup simmering in a kettle over an open fire, or was it the sweet stickiness of homemade apple fritters? It doesn't matter; I plan on sampling it all, great comfort food prepared fresh, from scratch.
I've been attending Prairie Peddler for years and there are few events I anticipate more than this annual Festival. Held the last weekend of September, and first weekend in October, this year marks 25 years of peddling the wares. Nestled in the woods of Butler, Ohio, it's a revisit to a time of all things hand-made, and tops my list of guilty pleasures. You'll find no nutrition labels or "made in China" stickers here. With over 187 shops and 22 food vendors lining pathways into the woods, this event requires some prep work to savor the full impact, so start banking those dollars and calories, put on your most comfortable tennis shoes and elastic waist pants. Ready, set, shop… and eat!
You know you're in for a treat when you arrive. Volunteers guide you into a grassy parking spot and then transport you to the front gates, via golf cart. You'll want to take advantage of the ride. There are so many things to see and do once inside. This is not your typical craft show. Like an art exhibit, the vendors are hand selected based on diversity, quality and uniqueness of their wares. You are likely to find that perfect, one-of-a-kind gift for those people on your Christmas shopping list. One year, my overflowing shopping bags held scented lotions and relaxation potions, beeswax creams, a lovely hand-thrown pottery pitcher, freshly roasted aromatic almonds, and even a beer and salami scented candle for the manly men in my life. If you're looking for a gift for the guy or gal that has everything, you are guaranteed to find it here. You'll see stained glass, jewelry, handbags, hats and scarves, birdhouses, unique lawn ornamentation, wood items, candles, old customized printed newspapers hot off the press, seasonal items, potted plants, baskets, and so much more.
My granddaughters all cut their teeth on the giant dill pickles and as they grew older, enjoyed the pony rides, made soap and candles, and stuffed themselves on kettle corn, hot and sweet, fresh from the big black pot. Not being one to miss out on any of the delicious food, it's great to attend with a group of friends. Everyone orders something different for a create-your-own smorgasbord, laid out to share in the center of your picnic table. Take your time cruising the pioneer food court for selections, but who wants to choose between chicken and biscuits, fresh pulled pork sandwiches, chicken and noodles, home-made soups, ribs, hot apple dumplings with homemade ice cream, funnel cakes, or those freshly fried apple fritters? I want it all.
When you're ready for a rest break between the shopping and the eating, there are a number of demonstrations of highly talented artists at work as well as entertainment to be enjoyed. Some of the most unique pumpkin carving you'll ever see is showcased, as well as magic for the kids, clogging and a variety of musical entertainment.
For a complete schedule of times for events and a vendor listing, check the website for Prairie Peddler at http://www.prairietown.com// I'll see you there! I'll be the one waddling out of the gate with my arms laden with goodies!
Blog Archive
Related Topics
« Back to Blog