Bountiful Mansfield offers a cornucopia of the fruits of summer
July 25, 2012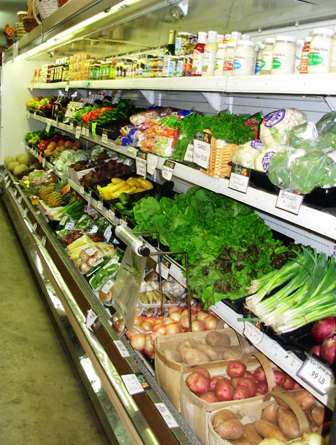 Shopping healthy and having fun doing it!
Summer meals call for lighter, healthier fare and Mansfield has a dining table laden with whole, scrumptious, food. One of the treats of summer is the delicious home grown produce fresh from the ground, vine, and trees bursting with flavor and good nutrition.
From now until the beginning of September, The Carrousel District in Downtown Mansfield is the gathering spot for the annual Farmers Markets held every Friday from 9:00 a.m. to 2:00 p.m. Local farmers and vendors bring their seasonal produce, fruits and other delectables to the table for city folk to purchase. Make it a weekly shopping trip to stock the pantry and vegetable crisper for healthy summer snacks for the kids.
For nearly two decades Wayne's Country Market's bins have overflowed with locally grown produce in the summer months as well as stocked shelves and deli cases of many Ohio made food products. Located in neighboring Lexington, this country market has honey, maple syrup, jams and jellies, Amish baked goods, meats and cheeses, and even local and Ohio wines. While you're there take a stroll through their colorful greenhouse and check out their garden supplies and ornamentation.
A relative newcomer to Richland County is Pumpkin Seed Market. This immaculate, bright bulk food market has row after row of high quality food items nicely displayed in clear packaging. They carry over 1,200 different products; from soup to nuts, baking supplies, teas, coffee, seeds, mixes, healthy snacks, and more. They also carry both gluten free products as well as organic items. You can purchase milk from grass feed cattle and sealed in glass bottles, just like grandma and grandpa enjoyed. Pumpkin Seed Market grinds their own peanut and almond butter right in the store and dispenses, fresh bulk honey. This unique bulk food store allows families to enjoy both whole and convenient foods at an economical price.
Don't let the name Blueberry Patch fool you. This fabulous farm is so much more. With acres of blueberries available for the picking (July through September), you can indulge in "fresh from the bush" berries all summer long. If picking isn't your style, pre-picked berries are available. September brings the raspberries to the patch, and you can freeze any of these juicy, oxidant rich fruits and enjoy them through the long Ohio winters. There is also a greenhouse with a variety of plants and herbs, a unique gift shop, and café to cool off in after a morning of picking. A specialty gift item at Blueberry Patch Greenhouse and Gifts is the cookbook that features all recipes blueberry, from desserts to unique taste bud teasers.
If an apple a day keeps the doctor away, Apple Hill Orchards has enough varieties to keep everyone healthy all year. With two locations in Mansfield and Fredericktown, Apple Hill Orchards has earned a name for itself in quality produce. The first of over 20 varieties of apples are ripe for the picking in July and new varieties continue to burst into maturity all summer, through October. Check their website for available picking times which change from year to year. There's a favorite fruit for everyone, and Apple Hill also grows peaches, pears and cherries which are available for purchase too. Kids will enjoy romping through the orchard to fill their own bag as they also learn some lessons in agriculture and discover the delight in picking their own food. Fresh pressed cider and a dietary splurge on one of their famous homemade apple donuts are a real treat after a morning of apple plucking in the orchard. Apple Hill Orchard also sells other fresh produce, homemade condiments and offers some fun events for the family to enjoy throughout the year. Moonlight hayrides are a highlight in October and activities are listed on their website.
Mansfield and Richland County provides many options for people to cultivate a healthy diet while having some fun picking and selecting wholesome, nutritious foods this summer. For a complete listing of all of these wonderful local markets and other attractions, check the listings on our website at
Blog Archive
Related Topics
« Back to Blog